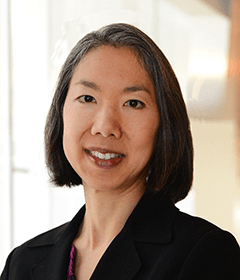 Forcing the Hand of Housing Reform
Executive Summary
The housing market is moving along at a steady but uninspiring pace, with healthy homeowner demand counterbalanced by constrained homebuilding and lending activity.
Although housing reform has faded from the political spotlight as the housing market has stabilized, the topic has once again begun to attract attention as GSE conservatorship approaches its eighth anniversary.
Two initiatives by Fannie Mae and Freddie Mac—the CSP/Single Security project and the CRT program—could play key roles in the next chapter of mortgage finance.
In examining housing reform options, we believe that a hybrid model in which private capital would bear credit risk and the government would guarantee against catastrophic risk would best achieve the goals of preserving homeowner access to mortgage credit and maintaining market liquidity.
A post-GSE world will present investment opportunities that will best be captured by active managers with expertise in analyzing issuer and mortgage credit.
The Post-Crisis Housing Market
After plunging sharply during the crisis, the US housing market has largely recovered and stabilized. Existing-home sales have risen to levels not seen since 2009, and home prices are now only 3% off their pre-crisis peak (Exhibit 1). Strength in pending home sales (Exhibit 2) and low primary mortgage rates suggest that homeowner demand should remain resilient for the balance of this year.
At the same time, by historical standards, homebuilding activity has remained lackluster, with housing starts, inventory and new-home sales still below their longer-term averages (Exhibit 3). Furthermore, the homeownership rate remains near all-time lows as mortgage credit and affordability in some regions remain constrained (Exhibit 4).
Overall, the housing market is moving along at a steady but uninspiring pace. Without significant improvement in the appetites of homebuilders, mortgage lenders or first-time homebuyers, we expect housing to remain in third gear.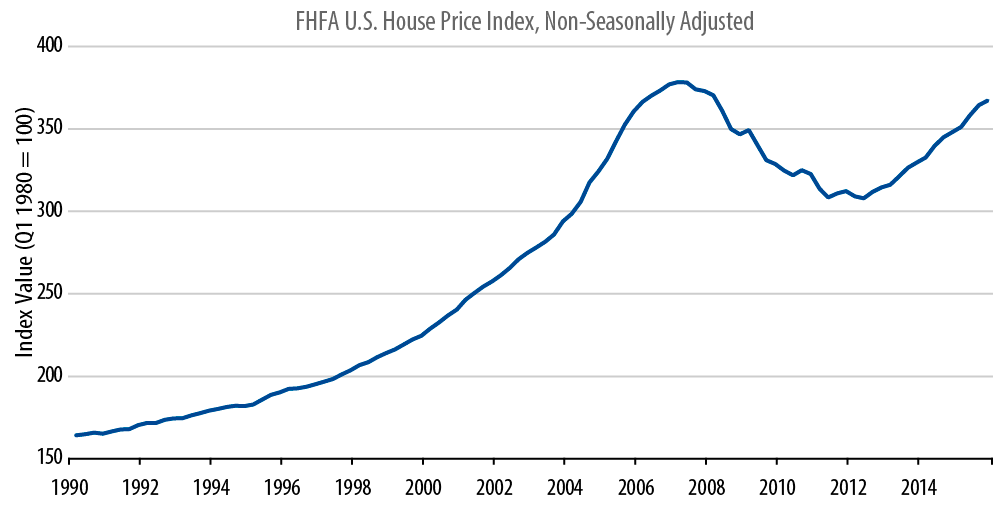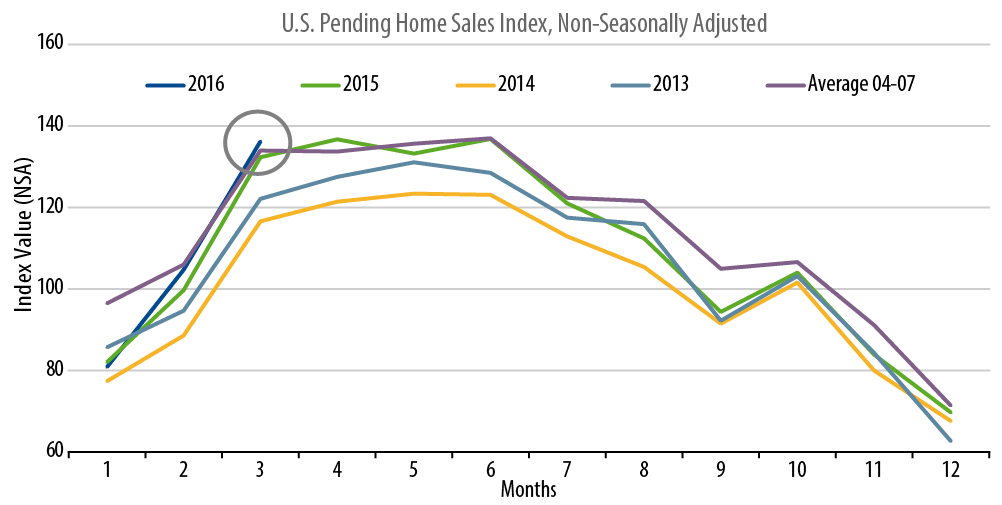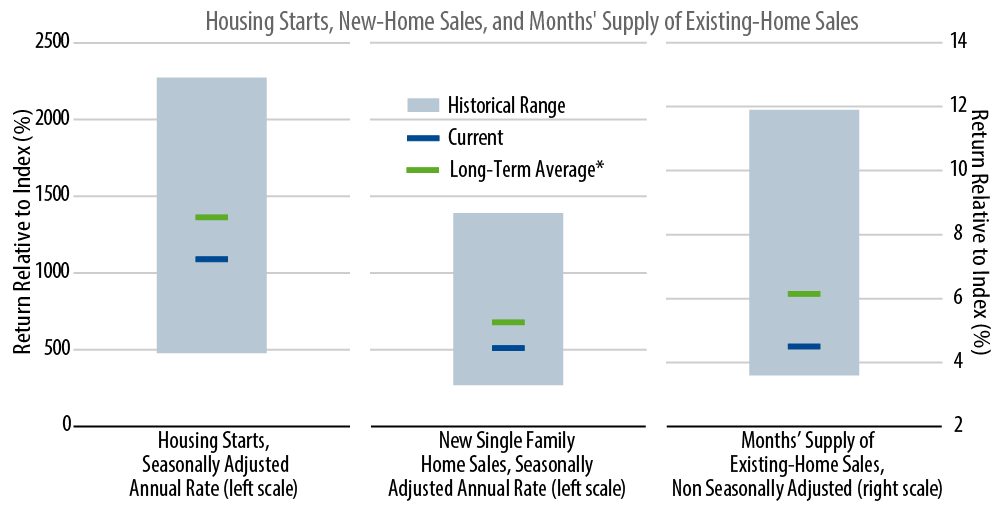 Why Consider Housing Reform Now?
With the housing market plodding along, the previous spotlight on government sponsored enterprise (GSE) reform has understandably faded. Yet, as the conservatorship of Fannie Mae and Freddie Mac approaches its eighth anniversary this September, a confluence of events has revived the topic of housing reform.
Freddie Mac's 1Q16 and 3Q15 losses, though relatively small at $354 million and $475 million, respectively, remind us of the uneasy ties between the GSEs and the federal government. Although Freddie Mac did not need to draw from the US Treasury for these losses, the terms of the Senior Preferred Stock Purchase Agreements (PSPAs) make a future draw highly likely. Under the PSPAs, the Applicable Capital Reserve Amount, or capital buffer that each GSE is permitted to hold, decreases to $600 million at the start of 2017 and then to $0 at the start of 2018. Consequently, if the GSEs incur losses in excess of $600 million next year, or losses of any magnitude after 2018, they will need to once again draw down on the US Treasury facility, which last occurred in June 2012.
Ample liquidity remains under the Treasury facility for the GSEs to access: $118 billion for Fannie Mae and $141 billion for Freddie Mac. Future drawdowns, however, particularly if accompanied by an economic downturn, could reignite investor concerns around the ability of the GSEs to honor their obligations, disrupting the flow of mortgage credit to consumers. As Federal Housing Finance Agency (FHFA) Director Mel Watt stated in a recent speech,1 "I have been clear that conservatorship is not a desirable end state and that Congress needs to tackle the important work of housing finance reform. However, because of the intricacies of our housing finance system and the extremely high stakes for the housing finance market and for the economy as a whole if reform is not done right, I continue to hope that Congress can engage in the work of thoughtful housing finance reform before we reach a crisis of investor confidence or a crisis of any other kind."
Meanwhile, multiple lawsuits, such as Fairholme Funds, Inc. vs. United States and Perry Capital LLC vs. Lew, have been filed, challenging the legality of the Third Amendment to the PSPAs. Through this Amendment, the US Treasury converted the dividend obligation on the $187.5 billion of Treasury Senior Preferred Stock from a fixed 10% rate to a quarterly profit sweep. A ruling in the plaintiffs' favor would enable the GSEs to build capital and thereby help make it possible for them to exit conservatorship. While the outcome of litigation is always unpredictable, the cases are likely to push GSE reform back into the public spotlight.
Momentum for Housing Reform
Two initiatives by Fannie Mae and Freddie Mac could play a starring role in the next chapter of mortgage finance. The first is the Common Securitization Platform (CSP) and Single Security project. In its 2012 Strategic Plan, the FHFA set a goal to develop an IT platform, known as the CSP, which would allow Fannie Mae and Freddie Mac to issue mortgage-backed securities (MBS) under a new, unified label known as Single Security. These MBS will carry the Single Security name, but will be guaranteed by the issuing GSE. The GSEs are on track to issue the first Single Securities in 2018. Importantly, this type of infrastructure could potentially be accessed by non-GSE participants in order to grow private label issuance.
The second initiative is the Credit Risk Transfer (CRT) program, which began in 2013. In the agency MBS market, the GSEs' guarantee businesses have traditionally sold private investors interest rate and spread risk, while retaining all the credit risk. The GSEs first began selling credit risk through CRT deals in 2013—Fannie Mae under the Connecticut Avenue Securities shelf and Freddie Mac under the Structured Agency Credit Risk (STACR) shelf. The majority of the securities issued through this program are unsecured notes whose cash flows are determined by the performance of loans insured by the GSEs. The GSEs continue to ramp up issuance, with risk on more than $1 trillion of collateral transferred to date, which is ahead of the goals set by the FHFA Scorecards (Exhibit 5). These types of deals could serve as a blueprint for increasing the role of private capital in housing finance.

What's Next?
How policymakers will build on these two GSE initiatives is unknown. But as we look toward the future, the following scenarios appear possible, each with varying chances of success and potential market impacts.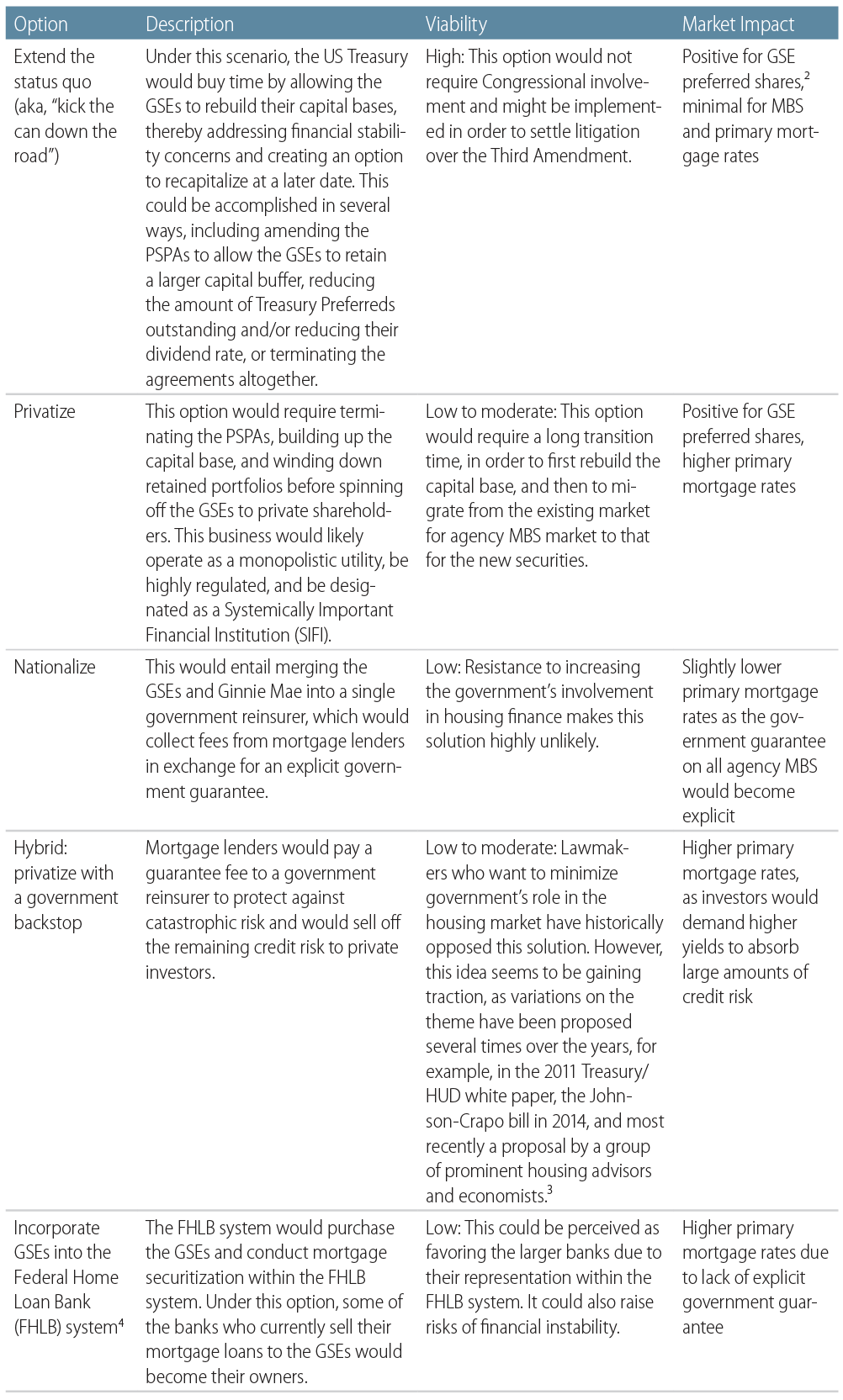 The debate over these alternatives is likely to revolve around which one best accomplishes the following goals:
Bringing in private capital to bear the first loss ahead of taxpayers
Preserving access to mortgage financing for creditworthy borrowers
Maintaining homeowner access to credit during the transition
Ensuring market liquidity and housing stability across economic cycles
In our view, the hybrid option is most likely to achieve these goals. Moreover, the headway made by the GSEs in the Single Security and CRT programs demonstrates that the hybrid model is practicable on at least some scale.
Implications and Investment Opportunities
Due to the election, we do not expect legislators to focus on housing reform until 2018 at the earliest. In the interim, the agency MBS market will remain the dominant channel for financing housing activity. Agency MBS are an attractive alternative to other high quality investments such as US Treasuries (USTs), as they offer more yield yet have a lower duration than USTs,5 carry essentially no additional credit risk and incur minimal transaction costs.
Once GSE reform retakes the political stage, however, the various alternatives under consideration will create both challenges and opportunities for astute investors. The most viable housing reform options would increase the cost of borrowing to the homeowner, as movement away from today's model would require investors to bear a greater amount of credit risk, resulting in wider spreads and a higher cost to borrowers. In the transition to a new system, liquidity could also be challenged as market participants explore how to quantify that credit risk and conduct price discovery on light trading volumes.
A post-GSE world, however, would also present investment opportunities. In this world, we might see new types of security structures, new issuers and more efficient pricing in market segments previously dominated by Fannie Mae and Freddie Mac due to their ability to fund at sub-LIBOR levels and exemption from private sector regulations.6 The private label sector of the securitized residential mortgage universe would grow significantly from its current 10% level, increasing the need for non-agency expertise. To navigate and capitalize on these complex currents, active management is a necessity. As fixed-income specialists with deep experience analyzing issuer and mortgage credit, we are constantly monitoring these developments in order to position our portfolios optimally in light of this complex environment.
Endnotes
Keynote address to Bipartisan Policy Center, Mel Watt, February 18, 2016.
Refers to the preferred stock securities held by private investors. A listing of these securities can be accessed at http://www.freddiemac.com/investors/preferred_stock.html and http://www.fanniemae.com/portal/about-us/investor-relations/stock-information.html.
"A More Promising Road to GSE Reform," Jim Parrott, Lewis Ranieri, Gene Sperling, Mark Zandi, and Barry Zigas, March 23, 2016.
The FHLB system is a government sponsored entity itself, governed by FHFA like Fannie Mae and Freddie Mac. The system consists of 12 regional banks, each of which is a separate government-chartered corporation owned by its member banks. The member banks are able to obtain both short-term and long-term financing through FHLB by pledging mortgages, MBS and government securities as collateral.
As of April 29, 2016, the Barclays Treasury Index had a yield of 1.35% and duration of 6.1, whereas the Barclays MBS Index had a yield of 2.30% and duration of 3.0.
For example, the GSEs are not subject to Basel requirements, and loans that are eligible for GSE purchase are exempt from Qualified Mortgage, or QM, requirements such as the 43% debt-to-income maximum as long as the GSEs remain under conservatorship or until January 10, 2021, whichever occurs first.
© Western Asset Management Company, LLC 2022. This publication is the property of Western Asset and is intended for the sole use of its clients, consultants, and other intended recipients. It should not be forwarded to any other person. Contents herein should be treated as confidential and proprietary information. This material may not be reproduced or used in any form or medium without express written permission.
Past results are not indicative of future investment results. This publication is for informational purposes only and reflects the current opinions of Western Asset. Information contained herein is believed to be accurate, but cannot be guaranteed. Opinions represented are not intended as an offer or solicitation with respect to the purchase or sale of any security and are subject to change without notice. Statements in this material should not be considered investment advice. Employees and/or clients of Western Asset may have a position in the securities mentioned. This publication has been prepared without taking into account your objectives, financial situation or needs. Before acting on this information, you should consider its appropriateness having regard to your objectives, financial situation or needs. It is your responsibility to be aware of and observe the applicable laws and regulations of your country of residence.
Western Asset Management Company Distribuidora de Títulos e Valores Mobiliários Limitada is authorized and regulated by Comissão de Valores Mobiliários and Brazilian Central Bank. Western Asset Management Company Pty Ltd ABN 41 117 767 923 is the holder of the Australian Financial Services Licence 303160. Western Asset Management Company Pte. Ltd. Co. Reg. No. 200007692R is a holder of a Capital Markets Services Licence for fund management and regulated by the Monetary Authority of Singapore. Western Asset Management Company Ltd is a registered Financial Instruments Business Operator and regulated by the Financial Services Agency of Japan. Western Asset Management Company Limited is authorised and regulated by the Financial Conduct Authority ("FCA") (FRN 145930). This communication is intended for distribution to Professional Clients only if deemed to be a financial promotion in the UK as defined by the FCA. This communication may also be intended for certain EEA countries where Western Asset has been granted permission to do so. For the current list of the approved EEA countries please contact Western Asset at +44 (0)20 7422 3000.