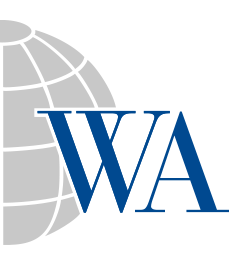 Emerging Market High Yield: Understanding an Evolving Asset Class
Executive Summary
There's a tendency among investors to see two asset classes they think of favorably—EM and HY—and assume that the combination of the two will look and function like a faster-growth version of the US high-yield (US HY) market.
A deeper look at the EM HY asset class reveals a more complicated story. The dynamic interplay between sovereign and corporate fundamentals within countries and across regions leads to a complex and fluid environment within which to invest.
While many factors have driven the EM HY market to grow, the development of a framework to manage this exposure over a full market cycle has lagged the development of the market itself. For the patient investor, this disconnect represents a compelling potential opportunity.
Getting the aforementioned framework right provides investors with the opportunity to play deleveraging stories at both the sovereign and corporate level. EM HY is particularly compelling in this respect, given what appears to be a positive trajectory for sovereign credit quality across much of the emerging world.
Introduction
There is a tendency among investors to see two asset classes they think of favorably—emerging markets (EM) and high-yield (HY)—and assume that the combination of the two will look and function like a faster-growth version of the US high-yield (US HY) market. A deeper look at the asset class, however, reveals a much more complicated story. The dynamic interplay between sovereign and corporate fundamentals within countries and across regions leads to a complex and oftentimes very fluid environment within which to invest. As the Emerging Markets High Yield (EM HY) asset class continues to draw historic levels of investor attention, Robert Abad and Matthew Graves, members of Western Asset's Emerging Markets Team, discuss the evolution of the market, its defining characteristics, and the investment approach the team takes to account for these risks.
What Have Been the Factors Driving Investor Interest in EM HY?
In the midst of near-unprecedented volatility across global markets in 2011, assets under management (AUM) versus the JP Morgan series of EM debt indices increased by a staggering forty-one percent¹. This comes as no surprise. The years directly preceding the global financial crisis were marked by a fundamental transformation in the sovereign credit quality of much of the emerging world—a transformation that would ultimately leave it well-positioned to deal with the aftermath of the crisis. EM's performance since 2008, then, represents a structural break with its volatile past. As more and more investors have taken notice of this, the market—as measured by AUM, number of investors, and the range of investor types—has begun to expand rapidly.
However, the expansion in the size of the asset class, in AUM terms, has occurred precisely as the traditional driver of returns—external sovereign spread compression—has largely run its course (Exhibit 1). As a result, market participants have increasingly looked to the local currency and external corporate credit markets of the much broader EM universe to find additional sources of yield and total return. In part, this has helped facilitate the rapid development of these segments of the market; it has also led to the expectation that other segments of the market will develop in short order.
Indeed, from the perspective of developed markets, the emergence of an investable, EM HY market would seem a logical next step in the evolution of the asset class as a whole, and this is a trend that has taken hold in recent years. Driven in part by the realization that this segment of the asset class provides a more tailored way to participate in the secular credit improvement story of the emerging world, and in part by investors' need to obtain yield in an environment of low or negative real interest rates, robust issuance in EM HY over much of the past two years has been met by exceptional investor demand.
It's worth taking a step back to offer some context on this point. The aforementioned assumption that a combination of emerging markets and high-yield asset classes would look and function like a faster-growth version of the US HY market takes for granted the fundamental underpinnings of the US legal system, which have enabled the US HY market to function in the way that it does: with respect for individual property rights, due process, and a relatively long, uninterrupted history of transparent judicial precedent. In this context, then, the development of an EM HY market seems like less of a "natural" next step, as these factors vary and in some cases are not even present across EM countries.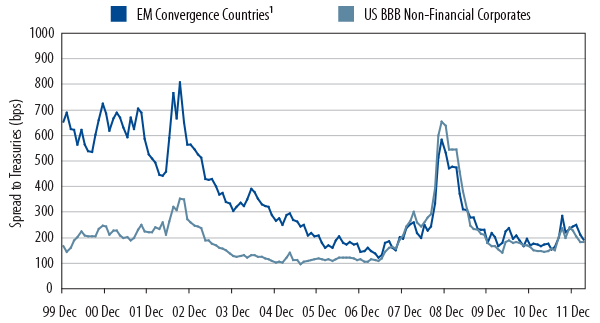 This does not mean, however, that we should dismiss the asset class entirely. Indeed, it's quite the contrary: we see the asset class as one of the most exciting potential opportunities in EM as long as the particular country context specific to each investment is properly understood. And this is the way we try to frame the discussion of the asset class, looking forward. While a confluence of factors has driven the EM HY market to grow rapidly in the past few years, the development of a framework to manage this exposure over a full market cycle, from peak to trough, has in many cases lagged the development of the market itself. For the patient investor, this disconnect represents a compelling potential opportunity.
How Would You Characterize EM HY, and How Do the Risks Compare with US HY?
EM HY is a very broad term that encompasses a fairly complex set of issuers, including both corporate and sovereign borrowers. In many cases, the only unifying theme across EM HY issuers is their rating. This may seem obvious, and in no way different from the "unifying theme" of the US HY market, but we need to consider for a moment the risks present in the EM HY market as compared with those, for example, in the US HY market.
The primary risks faced by US HY investors are largely homogenous from issuer to issuer, and generally relate to the sensitivity of various factors—leverage, liquidity, and cash-flow—to the US business cycle. EM HY investors have to contend with a spectrum of risks that varies from country to country. The set of risks familiar to a traditional HY investor still matter in EM HY, at both the sovereign and corporate level, but in many cases these risks can be trumped by the much more dynamic (and difficult to quantify) risks associated with social and political factors within and among countries. This, in turn, has important implications for how to assess risk across issuers within a particular country, creating a fluid environment within which risks at the sovereign and corporate level must be identified and assessed in tandem. Given most EM economies' greater sensitivity to fluctuations in the global business cycle, a true bottom-up approach to EM HY, then, fails to address important vulnerabilities of the asset class arising at both the country and macro level.
While challenging, getting this framework right provides investors with the opportunity to play deleveraging stories at both the sovereign and corporate level. Though this can be a bit of a double-edged sword, as any deterioration in sovereign credit quality also generally negatively impacts corporate credit quality, EM HY is particularly compelling in this respect, given what appears to be a positive trajectory for sovereign credit quality across much of the emerging world.
What are Your Views on Default Risk and Recovery Values in EM HY?
The higher susceptibility to liquidity and solvency risk that defines the HY market means that these issuers receive additional scrutiny with respect to their corporate governance practices, creditor rights, and the potential recovery value on the company's assets that can be extracted through court-administered bankruptcy proceedings. Investors with limited experience in EM typically look to historical US HY default rates and recovery values to gain perspective on EM HY markets, comparing metrics between the two asset classes to get a sense of potential best-case/worst-case scenarios. While this approach is traditional in developed markets, it can be problematic when analyzing EM HY, for several important reasons.
First and foremost, any study of default and recovery rates should take into account the fundamental differences in macro or micro variables that render obsolete a comparison between two time periods. While information on global liquidity conditions, commodity prices, and other macro data is readily available, this is not always the case for key micro-level variables. Indeed, it can be exceptionally difficult to source historical data covering variables such as EM bank lending composition, EM corporate secured versus unsecured debt statistics, and the transparency of pre- and post-bankruptcy procedures and settlement processes that ultimately determine investment recovery values. Further, given the significant balance sheet improvement and structural reforms we have observed in EM over the past decade, it would be a mistake to draw hard conclusions about the default prospects of a sovereign or corporate issuer based on only one data point, or a series of data points drawn from a historical period characterized by structural breaks.
Second, any discussion of default rates and recovery values should be viewed through the lens of the default experience. Investors should try to understand the specific factors that led to that issuer's default and, more importantly, the time and expense (both opportunity cost and legal cost) investors had to incur before securing some recovery value in a defaulted or distressed situation. In other cases, allegations of fraud may impair an issuer's debt indefinitely, as the issuer loses access to both debt and equity markets as potential sources of new funds. In the context of potentially opaque or untested bankruptcy processes, potential favoritism among stakeholders or other corporate governance-related issues, investors may ultimately choose to accept non-coercive tender offers at distressed levels for lack of a better option. In this case, while outright default is averted, the result of the process is effectively the same.
With these factors in mind, it should be clear that simply tabulating the number of sovereign or corporate defaults in a given year, or the number of defaults in a particular industry or region, and comparing them with US HY default trends, is not particularly insightful. Indeed, despite all of the unique EM factors mentioned above, US HY and EM HY markets look much the same on paper, when considered from the perspective of default rates and recovery values (see Exhibit 2). By masking the true complexity of the asset class, then, this type of analysis can often be misleading, and provide investors with a false sense of comfort when considering the asset class.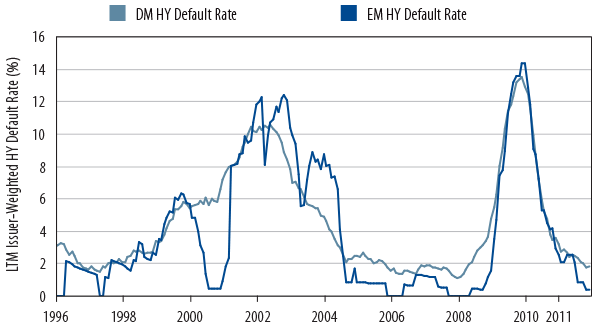 This raises the question of what conclusions we are able to draw from studying the data covering historical EM default cycles, and on this point, we keep our focus at a high level. First, global liquidity conditions are the main drivers of credit cycles, with periods of excess monetary accommodation setting the stage for future defaults (Exhibit 3).
Second, when volatility spikes, it can be sharp and protracted across issuers globally. Finally, when comparing EM defaults by region, Latin America appears to be less prone to default pressures relative to Asia and Emerging Europe (Exhibit 4).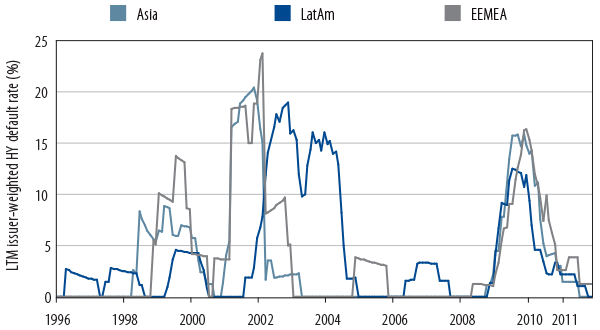 How Does This Framework Translate into an Investment Approach?
Our investment approach is a natural extension of this framework. Historically, EM HY has been a market that rewards a patient and disciplined investment approach. Reversals in global liquidity conditions precipitate spikes in volatility and ultimately lead to negative shocks to the EM HY market, in which prices move sharply lower over a short period of time. A dynamic and robust top-down investment process—which focuses on the key risks to the global macro environment, as well as country-specific political and macroeconomic trends—helps us to navigate these cycles more effectively, seeking to minimize the portfolio's exposure to such negative shocks, and enabling us to take advantage of any relative value opportunities that arise as a result of these dislocations.
Realistically, these shocks cannot be completely avoided. For this reason, it is critically important to marry the top-down investment process with a rigorous, bottom-up credit research framework. We emphasize a "boots-on-the-ground" approach to the research process, using the more subjective insights gleaned through first-hand experience to supplement more traditional forms of credit analysis. The emphasis on risk control through concurrent country and company analysis helps to minimize the probability of loss sustained due to deterioration in sovereign credit quality, while also allowing us to avoid those industries and individual credits that would most directly (and permanently) be impacted by such risk.
From a portfolio perspective, the approach emphasizes absolute levels of risk in order to avoid the common pitfall of understating risk in a low-volatility environment at the worst possible time. This means there is as much an emphasis on non-parametric, "intuitive" types of risk analysis, such as scenario analysis, as there is on some of the more commonly-referenced measures of risk, such as Value-at-Risk (VaR) or tracking error. To successfully navigate a full market cycle, this type of analysis, which helps frame risk and return relative to the potential extremes, is of the utmost importance to adjusting the portfolio's beta at the opportune time.
The investment process also emphasizes flexibility. In part, this reflects a healthy respect for the presence of true uncertainty in a market as dynamic as EM HY. It also reflects an unwillingness to invest in those sectors or countries that are marked by frequent issuance simply because those issues will eventually be included in a benchmark. In an environment where global rates are expected to remain low for the foreseeable future, we would expect a protracted and technically fueled issuer's market to generate greater complacency on both the buy side and sell side, as investors forego due diligence discipline for the sake of maintaining performance, and as bankers bring more and more deals to the market for the sake of maintaining market share. Indeed, in this type of market, we prefer an unconstrained approach to EM HY. This allows us to avoid chasing yield into the teeth of a reversal in global liquidity conditions, and, as a result, the potential corporate governance issues that are unearthed, and liquidity-driven defaults that occur, in its aftermath.
What is Your Outlook for EM HY in 2012?
While we remain very constructive on prospects for the asset class over the long term, we cannot discount the possibility that 2012 will end as another challenging year despite what's been a very positive start for markets thus far. Within the EM Corporate HY space, we believe there will continue to be a strong technical bid for higher-yielding, quality assets in EM. This should translate into more investor demand for the credits that are best positioned to continue deleveraging, that have the balance-sheet strength to weather external shocks (e.g., currency volatility), and that can rely on existing sources of liquidity to meet obligations over the next one to two years. Overall, BB rated credits should command greater support than B rated credits, which enjoy less investor sponsorship in periods of risk aversion, and generally face greater liquidity risk as a result of much lower access to capital market funding. However, within select countries, and select industries within those countries, we will look to move down the credit curve to find those single B rated credits with the most promising prospects of eventual upside to ratings of BB or higher.
Specifically, we prefer B and BB rated exposure to Latin American issuers, with an emphasis on upstream oil and gas producers in South America, and select telecom/media operators in Mexico and the Caribbean. We feel these bonds have the potential to outperform relative to their regional EM and developed world counterparts, given their relatively strong liquidity and/or leverage metrics. The combination of relatively stronger fundamentals and risk/return characteristics make them a better defensive play than that offered by higher-yielding credits in other sectors such as banks, which have a greater probability of being impacted by the peripheral European sovereign debt problem.
We will look to avoid sectors and regions where corporate governance issues are more likely to arise, and as a result remain meaningfully underweight certain countries within Asia, such as China. We will also look to avoid the regions and sectors where liquidity conditions are most likely to tighten most meaningfully, and most rapidly. As such, we will continue to play Eastern Europe very selectively, focused on strategically important and/or less cyclical sectors within countries characterized by a strong sovereign balance sheet. We also expect policies targeted at potential inflationary pressures to persist across EM, as central banks and national governments attempt to avoid outright rate hikes until absolutely necessary. As a consequence, we will avoid the sectors most likely to encounter a policy-induced liquidity squeeze, such as the Chinese property sector.
© Western Asset Management Company, LLC 2022. This publication is the property of Western Asset and is intended for the sole use of its clients, consultants, and other intended recipients. It should not be forwarded to any other person. Contents herein should be treated as confidential and proprietary information. This material may not be reproduced or used in any form or medium without express written permission.
Past results are not indicative of future investment results. This publication is for informational purposes only and reflects the current opinions of Western Asset. Information contained herein is believed to be accurate, but cannot be guaranteed. Opinions represented are not intended as an offer or solicitation with respect to the purchase or sale of any security and are subject to change without notice. Statements in this material should not be considered investment advice. Employees and/or clients of Western Asset may have a position in the securities mentioned. This publication has been prepared without taking into account your objectives, financial situation or needs. Before acting on this information, you should consider its appropriateness having regard to your objectives, financial situation or needs. It is your responsibility to be aware of and observe the applicable laws and regulations of your country of residence.
Western Asset Management Company Distribuidora de Títulos e Valores Mobiliários Limitada is authorized and regulated by Comissão de Valores Mobiliários and Brazilian Central Bank. Western Asset Management Company Pty Ltd ABN 41 117 767 923 is the holder of the Australian Financial Services Licence 303160. Western Asset Management Company Pte. Ltd. Co. Reg. No. 200007692R is a holder of a Capital Markets Services Licence for fund management and regulated by the Monetary Authority of Singapore. Western Asset Management Company Ltd is a registered Financial Instruments Business Operator and regulated by the Financial Services Agency of Japan. Western Asset Management Company Limited is authorised and regulated by the Financial Conduct Authority ("FCA") (FRN 145930). This communication is intended for distribution to Professional Clients only if deemed to be a financial promotion in the UK as defined by the FCA. This communication may also be intended for certain EEA countries where Western Asset has been granted permission to do so. For the current list of the approved EEA countries please contact Western Asset at +44 (0)20 7422 3000.