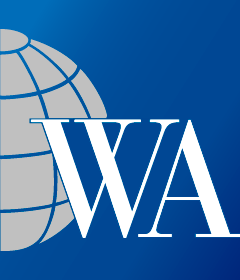 Constructive on Italy: Stick with IT
Executive Summary
Western Asset remains overweight Italian bonds across global portfolios despite their recent strong outperformance.
European tail risks continue to decline. The accommodative monetary policy stance of the ECB should facilitate a continued reduction of systemic risk fears.
Demand is greater than supply. Italy does not need to find new investors to meet its funding requirement in 2014. Increased foreign investor participation raises the prospects for demand outstripping supply.
Italian political dynamics are improving. New Prime Minister Renzi appears committed to advancing much needed structural reforms.
Total return expectations remain attractive but investors should be mindful of potential risk shocks and hedge exposure accordingly.
Our Position
The start of 2014 will be remembered for heightened emerging market (EM) volatility, fears of a China slowdown and increased tensions between Russia and the West. Despite this volatility, investors now feel more comfortable owning peripheral European debt. Here we provide five key reasons why Western Asset believes there is still value in Italian bonds.
Prior to 2011, Western Asset remained underweight peripheral European bonds, taking the view that historically tight valuations did not compensate investors for the embedded risk. Since the summer of 2011, Western Asset has maintained an overweight position across its global portfolios, managed tactically to protect portfolio performance during periods of risk aversion.
We recognise that while the outlook for peripheral bond markets is looking a little brighter since the eurozone crisis nadir in 2011, both the public and private sectors face significant challenges, and we expect these to weigh on growth for several years. Europe needs deep structural reforms to increase competitiveness and restore confidence in its banking sector if the current fragile recovery is to translate into job creation. Structural reforms of the magnitude required take time, most likely measured in years, not months; thus the long-run outlook remains highly uncertain. One precondition for success is that monetary policy should be kept highly accommodative.
Why We Remain Constructive
There are five key reasons why we believe owning Italian bonds remains an attractive investment:
Eurozone tail risks continue to recede
European Central Bank (ECB) policy remains highly accommodative
Demand exceeds supply
Domestic politics
Diversified exposure still offers attractive risk/reward characteristics
Tail Risks Continue to Recede
In July 2012 European Central Bank (ECB) President Mario Draghi pledged to do "whatever it takes" to protect the eurozone from collapse. Two months later, Draghi launched a new bond-buying program called Outright Monetary Transactions (OMT), aimed at addressing distortions in government bond markets by allowing for unlimited purchases of sovereign bonds with a maturity of three years or less. The ECB has not purchased any sovereign bonds under the OMT program, yet the confidence this policy instilled in the ECB as a "buyer of last resort" has helped Italian spreads tighten over 350 basis points (bps), and in late February, five-year Italian bond yields hit a new all-time low of 2.02%. The market has clearly taken Draghi at his word, a fact not lost on Draghi himself, who stated that the OMT had "probably been the most successful monetary policy measure undertaken in recent times."1 Despite the German Constitutional Court ruling on February 7 to refer the legality of Draghi's pledge to the European Court of Justice (ECJ), we believe market participants still have confidence in Draghi and the OMT as evidenced by the continued tightening of Italian spreads since the Constitutional Court's ruling.
Another measure of market tail risk is eurozone excess liquidity. During periods of risk aversion, banks tend to hoard cash to provision for greater levels of uncertainty. This increase in provisioning is reflected in the ECB's measure of excess liquidity (Exhibit 1). Beginning in late 2011 the ECB injected over a trillion euros into the banking system in the form of two longer-term refinancing operations (LTROs) to ease liquidity constraints and satisfy the banking system's extra liquidity requirement. Banks have continued to pay back these loans and in February this year excess liquidity fell to a two-and-a-half year low of just over €110 billion. Coming at a time when the eurozone's largest banks' assets are subject to the Asset Quality Review (AQR) by the ECB, we see the decline in excess liquidity as clear evidence that funding pressures in Europe have eased significantly. It remains to be seen, however, if this will lead to an improvement in lending to the real economy.

ECB Policy Remains Highly Accommodative
An accommodative monetary policy stance is, we believe, a necessary pre-condition for further Italian bond spread compression. In our view the ECB is likely to maintain its main interest rates at exceptionally low levels for an extended period of time, most likely longer than priced by current forward interest rate markets. Inflation in Europe is worryingly low as evidenced by the ECB March staff projections that forecast inflation to be only 1.5% in 2016. Put differently, despite record amounts of policy accommodation, the ECB still expects inflation to be nearly 0.5% below its inflation target in two years' time. Draghi believes inflation risks are broadly balanced; our view is that risks are skewed to the downside given the amount of deleveraging still required and structural headwinds that include the need for fiscal tightening to counter rising public sector burdens as Europe's labour population ages. The US Federal Reserve and Bank of Japan continue to expand their respective balance sheets but we have yet to see any signs of inflationary impulse. By contrast, the ECB is allowing its balance sheet to contract at a time when the economic recovery remains fragile. Draghi reaffirmed his commitment to maintaining the current easy monetary stance at the March ECB meeting. This should keep interest rates low and force investors to continue searching for yield either by investing in longer maturity bonds and/or by seeking higher yielding eurozone sovereign bonds. We believe that Italian bonds will continue to benefit in this scenario.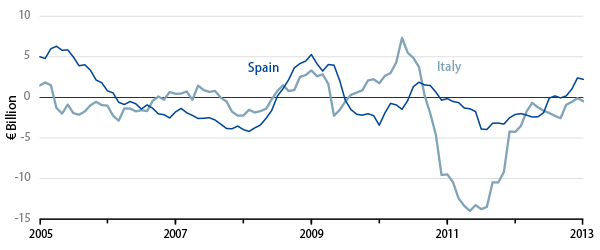 Demand Exceeds Supply
In 2011 foreign investors sold their Italian bond holdings at record pace regardless of price (Exhibit 2). The trend we are seeing today is a complete reversal with foreign investors' confidence in Italy rising. A growing number of large Japanese institutions have been reported to be reinvesting in the peripheral debt markets2 evidenced in part by their net buying of Spanish and Italian bonds in the second half of 2013. This renewed confidence by non-domestic investors in part reflects peripheral sovereigns' improving credit fundamentals. From a fundamental perspective, despite the long-term structural challenges, Italian debt looks relatively stable and attractively priced when put up against more volatile EM bond markets such as South Africa, Turkey and Russia. Rating agency upgrades have also helped improve sentiment towards the periphery. In February, Moody's upgraded Spain to Baa2 from Baa3 and assigned a positive outlook suggesting more upgrades are possible in future, highlighting the progress made in implementing broad structural reforms and the improvement in the government's funding conditions. Moody's also affirmed Italy's Baa2 rating and said it would consider an upgrade if labour and economic reforms were successfully implemented. Ratings matter because many global investors are still tied to conventional global bond indices that are investment-grade only. Now that rating momentum has turned positive, fears of an imminent exit from the major bond indices have greatly receded.
We also believe that, in contrast to 2011, holders of Italian debt are less likely to sell during periods of heightened risk. More of Italy's domestic debt is now held by domestic investors,3 predominantly banks that are more incentivised to hold debt issued domestically (Exhibit 3). This trend matters because domestic banks are more likely to reinvest bond redemptions and coupons.
In terms of supply, Italy has approximately €210 billion of financing requirement remaining this year compared with payments to investors of over €220 billion for bond maturities plus coupon payments. Since existing holders of Italian debt are likely to reinvest these payments in new Italian debt, Italy doesn't need to find any new buyers of debt this year to fund itself. The potential for additional purchases from foreign bond investors such as Japanese pension funds adds to our conviction that the supply/demand dynamic is very supportive of Italy's bonds.
Domestic Politics at a Seminal Moment
In the 68 years that have passed since Italy reconstituted itself as a republic in 1946 there have been no fewer than 63 governments, each one lasting on average just over one year. The political scene is fractious unpredictable and self-serving. Fed up with a political system dedicated to safeguarding its own survival, the electorate have rebelled.4 Media tycoon and entrepreneur Silvio Berlusconi symbolised all that was wrong with Italian politics,5 and after a failed attempt to bring down the government in September 2013, Berlusconi was expelled from the Italian parliament following his conviction for tax fraud. Whilst he remains in control of the main opposition party, it is likely Berlusconi will play a much less pivotal role in Italian politics going forward, a positive development in our opinion.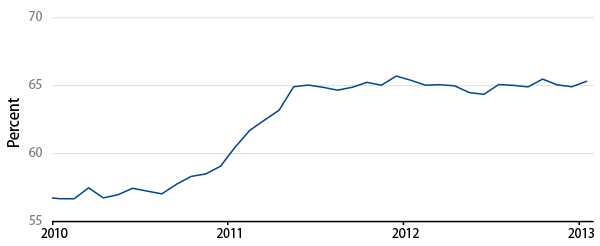 We believe the new government led by 39-year-old Matteo Renzi has a real opportunity to implement meaningful reforms that were beyond his predecessors. Later this year Renzi looks likely to deliver on proposed changes to the electoral law, which will reduce the likelihood of future elections ending in dysfunctional coalition governments. He also plans to reform the tax system to reduce the difference between what companies pay their workers and final take-home pay. In 2012, the Organization for Economic Cooperation and Development estimated personal income taxation to be 47.6%, the sixth highest in the group of 34 member countries. Italy needs deep structural reforms in order to boost long-term productivity growth, and the recent optimism surrounding the young, energetic new prime minister with his promise of change may increase the prospects for reforms to be endorsed and effectively implemented. Many sceptics worry about Renzi's lack of political experience and doubt that his tenure will last any longer than the average of his 62 predecessors. We believe, however, that optimism amongst the electorate is high and that Italy has a better chance to do something different under his leadership.
Attractive Total Return Opportunities in a Diversified Portfolio
Five-year Italian bonds currently yield 2.10%. Put simply, provided Italy does not default, the holder of a five-year bond could receive approximately 11% on their investment over the life of the bond. However, the current steepness of the yield curve means a large proportion of the total return will likely be paid out in the first one to two years of the investment. In fact, over the next 12 months, should yields on five-year maturity bonds rise by significantly less than what is priced by the forward markets today, the total return opportunity would be highly attractive.

Diversified Strategies
Combining two uncorrelated positions that offer value in isolation can result in strong risk-adjusted returns. One such trade we have utilised across our global portfolios is to combine an Italian bond overweight with a short position in the euro currency. Exhibit 5 shows that during periods of significant Italian bond spread-widening (absolute weekly moves above 0.25%) the euro has typically gone down. We think there are strong merits in pairing an Italian bond overweight exposure with a short active euro exposure. However, investors should be mindful that given strong conviction in the Italian bond position, the size of the euro hedge does not fully offset the bond position. Exhibit 4 highlights an adverse scenario for five-year Italian bonds: in the event spreads over German bunds widen to 2011 crisis levels, the return over a twelve-month horizon could be -14.43%. However, in this instance we would expect the euro to be trading significantly lower. It is in fact possible that an investment of one unit of five-year Italian bond(s) and one unit of euro short could produce a positive total return (assuming a EUR/USD rate of less than 1.20).6
Risk to Our View
While Draghi is committed to his accommodative stance there is clearly a risk of another policy error if monetary policy is not pre-emptive and loosened sufficiently to avert another recession. In the event the eurozone growth outlook does deteriorate, rating agencies and investors will once again focus on the long-term issue of debt sustainability, putting upward pressure on yields and spreads. In this scenario there is also risk that the ECB loses market credibility: as discussed previously, the power behind the ECB's OMT program is that markets believe the ECB's commitment is credible and enforceable. Any loss of confidence in Draghi's ability to keep tail risks contained could have drastic consequences.
Summary
Overall, we remain constructive on Italian debt and believe there is further upside. Despite the strong outperformance of Italian debt in both absolute and relative terms since Draghi's intervention in the summer of 2012, we believe there is still scope for spreads to contract and thus advocate maintaining an overweight exposure. However, investors should be mindful that spreads are close to three-year lows (and yields close to all-time lows). For this reason, investors should ensure position sizing is commensurate with their individual return objectives and risk tolerances and, most importantly, ensure that portfolio exposure is well diversified.
European tail risks continue to fall. The accommodative monetary policy stance of the ECB should facilitate a continued reduction of systemic risk fears.
Demand is greater than supply. Italy does not need to find new investors to meet its funding requirement this year. Increased foreign investor participation tilts this mismatch further in favour of the demand side of the equation.
Italian political dynamics are changing. Italy needs deep structural reforms and rhetoric from Prime Minister Renzi appears promising.
Total return expectations remain attractive. Investors should be mindful of potential risk shocks and hedge exposure accordingly.
Western Asset remains overweight Italian bonds across global portfolios despite yields and spreads trading at multi-year lows.
Endnotes
ECB press conference - June 2013
Wall Street Journal – March 2013, http://blogs.wsj.com/moneybeat/2014/03/04/spanish-italian-bonds-back-in-favor-in-japan/
From Jan 10 to Nov 13 domestic holdings have increased from 56.9% to 65.3%.
As evidenced in the 2013 national elections where over a quarter of the voting population chose to vote for a fringe movement—5 Star—led by a comedian, Beppe Grillo.
Berlusconi was the longest serving post-war prime minister. In his three terms in office between 1994 and 2008, the Italian economy grew just 0.3%. The three terms were: 5/94-1/95, 6/01-5/06, 5/08-11/11.
In global portfolios, we have also taken advantage of the very low level of implied euro currency volatility to buy put options, giving us the right (but not the obligation) to sell a specified amount of euros at a given strike price. The convex nature of this strategy means our short euro position gets significantly larger in the event of the euro falling through our strike price.
© Western Asset Management Company, LLC 2022. This publication is the property of Western Asset and is intended for the sole use of its clients, consultants, and other intended recipients. It should not be forwarded to any other person. Contents herein should be treated as confidential and proprietary information. This material may not be reproduced or used in any form or medium without express written permission.
Past results are not indicative of future investment results. This publication is for informational purposes only and reflects the current opinions of Western Asset. Information contained herein is believed to be accurate, but cannot be guaranteed. Opinions represented are not intended as an offer or solicitation with respect to the purchase or sale of any security and are subject to change without notice. Statements in this material should not be considered investment advice. Employees and/or clients of Western Asset may have a position in the securities mentioned. This publication has been prepared without taking into account your objectives, financial situation or needs. Before acting on this information, you should consider its appropriateness having regard to your objectives, financial situation or needs. It is your responsibility to be aware of and observe the applicable laws and regulations of your country of residence.
Western Asset Management Company Distribuidora de Títulos e Valores Mobiliários Limitada is authorized and regulated by Comissão de Valores Mobiliários and Brazilian Central Bank. Western Asset Management Company Pty Ltd ABN 41 117 767 923 is the holder of the Australian Financial Services Licence 303160. Western Asset Management Company Pte. Ltd. Co. Reg. No. 200007692R is a holder of a Capital Markets Services Licence for fund management and regulated by the Monetary Authority of Singapore. Western Asset Management Company Ltd is a registered Financial Instruments Business Operator and regulated by the Financial Services Agency of Japan. Western Asset Management Company Limited is authorised and regulated by the Financial Conduct Authority ("FCA") (FRN 145930). This communication is intended for distribution to Professional Clients only if deemed to be a financial promotion in the UK as defined by the FCA. This communication may also be intended for certain EEA countries where Western Asset has been granted permission to do so. For the current list of the approved EEA countries please contact Western Asset at +44 (0)20 7422 3000.