In the evolution of emerging markets (EM) debt, the proliferation of supranational securities denominated in local currencies has been a notable highlight. Supranational issuers are multilateral organizations with a mandate of promoting economic growth and enhancing regional integration among member countries. Supranational institutions are second only to national governments in bond issuance. According to estimates by Bank of America Merrill Lynch, supranationals' outstanding debt in at least 40 EM currencies stands at roughly $200 billion and continues to grow, which is an ample market size from which to construct a diversified portfolio to meet investors' risk/reward targets.
We view supranational bonds as offering a unique blend of high quality and high yield for the strategic investor. Supranational issuers are typically ranked AAA by rating agencies, given their robust capital bases, abundant liquidity and highly rated shareholders in advanced nations. They enjoy preferred creditor status, which underscores their systemic role in the world economy. Under the Solvency II regime, there is a carve-out for selective supranational issuers, which are not subject to any spread risk charge. This applies to the top four most active bond issuers in EM currencies: the European Bank for Reconstruction & Development (EBRD), the European Investment Bank (EIB), the International Bank for Reconstruction & Development (IBRD) and the International Finance Corporation (IFC). From a yield/income perspective, supranational securities trade at a discount or premium to the local government curves—pending prevailing market conditions—with yields in some cases in excess of double digits. At Western Asset, our representative supranational strategy has a current portfolio yield of 6.6% (Exhibit 1).
While co-existing as a subset of the EM asset class, supranational bonds distinguish themselves with their plethora of unique and distinct features. Because they are technically regarded as offshore issuances, investing in these securities is operationally less onerous. They do not incur local withholding or capital gains taxes. There is also no need for investors to establish domestic custody or cash accounts. Individual issuance sizes tend to be small as these deals are typically negotiated with the issuer to meet tenor and income frequency needs. Although not as liquid as the domestic Treasury market, there is enough supply via the secondary or primary market to fund a several hundred million dollar mandate in less than a week. Exit liquidity is dependent on prevailing FX hedges available for dealers as the balance sheet charge for holding AAA securities is de minimis. At Western Asset, we expect liquidity in this segment to continue to improve as new participants—both on the client and dealer sides—are becoming more active in this segment.
In the context of the growing role of EM in the global economy, supranational debt in EM currencies combines the hunger for yield with the benefit of diversification. Indeed, the strategic investor can at times realize a higher yield in supranational securities than those traded in the domestic market due to differences in market technicals. Over the secular horizon, we anticipate further expansion in the supranational debt universe. This includes new participants, with Beijing-based Asian Infrastructure Investment Bank (AIIB) printing an inaugural 5-year note in US dollars last month. The upshot of our assessment is that supranational securities present the unique blend of high income, return potential and minimal capital charge. For the long-term investor, this is very much like having your cake and eating it too.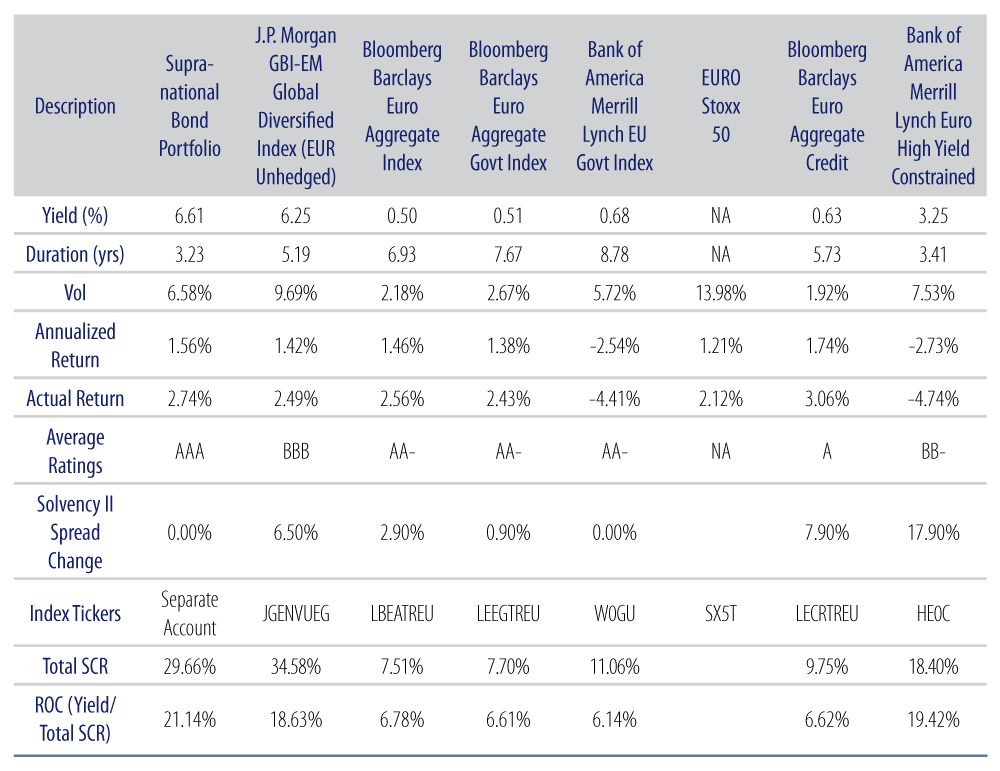 Please view the important performance and risk disclosures for Western Asset's Emerging Markets Debt Local Currency Sovereign composite.