Optimism over the global outlook has risen throughout 2021 against a backdrop of slowing COVID-19 case counts, increased vaccination progress and the anticipation of economies reopening. Markets expect that the combination of reopenings, supportive monetary policy and additional fiscal stimulus should lead to strong near-term growth and that potential inflationary pressures could result in central banks raising rates earlier than previously anticipated. While Western Asset's outlook is not calling for sharply rising and sustainably higher interest rates or inflation in the near term, we are well aware of the forces that could give rise to them, so we remain vigilant. The topic of higher interest rates is at the forefront of our clients' minds as it has come up many times during conversations this year. Structured products that are backed by residential MBS (RMBS), commercial MBS (CMBS) and asset-backed securities that are often floating-rate in nature may offer diversification benefits and act as hedges in a rising-rate environment.
Unlike a conventional fixed-income bond, which as the name implies pays a fixed coupon, a floating-rate bond's cash flows adjust as interest rates fluctuate. As an example, a typical floating-rate bond will have a coupon that is equal to a reference rate (such as LIBOR, SOFR, etc.) plus a spread or margin. Because of this unique feature, the rates on floating-rate bonds are only fixed for a short period (typically 1-3 months) before being reset based on the latest interest rates. Hence, they have close to zero duration risk. It is important to highlight, though, that while the duration impact is minimal, the spread impact is not, and floating-rate bonds can be impacted by wider spreads similar to fixed-rate bonds. Having a low duration is an important advantage of such bonds in a rising-rate environment—the higher the duration the more a bond's price will decrease (all else being equal). Furthermore, in a yield-starved world, floating-rate bonds will offer higher yield/carry as interest rates move higher.
Looking back at prior rising rate episodes, such as the taper tantrum of 2013 and also the Fed's rate hiking cycle of 2017/2018, we would like to illustrate how various subsectors of the structured product universe have performed relative to other fixed-income sectors (Exhibit 1). While we acknowledge that there are not any all-inclusive indices for the structured space, we have used Citi Research Legacy RMBS and ICE BofA US Floating Rate Home Equity Loan Indices to represent the non-agency RMBS sector and JPMorgan ABS Floating Rate and Bloomberg Barclays CMBS BBB Indices to represent ABS and CMBS sectors, respectively. The last column of the table showcases Western Asset's Structured Product strategy, which invests in a diversified mix of residential, commercial and asset-backed securities. As you can see in Exhibit 1, during both 2013 and 2017/2018 the structured product subsectors generated positive returns, generally outperforming relevant credit and Treasury indices.

Additionally, you can see the historical correlations of the structured product indices with other fixed-income sectors (Exhibit 2). The important conclusion here is that most structured product indices as well as the Western Asset Structured Product strategy display a negative correlation to US Treasuries. They also have had low correlations to the US Aggregate Index for the past 10 years—highlighting the significant diversification benefits that this asset class can bring to an overall investment portfolio composed of various asset classes.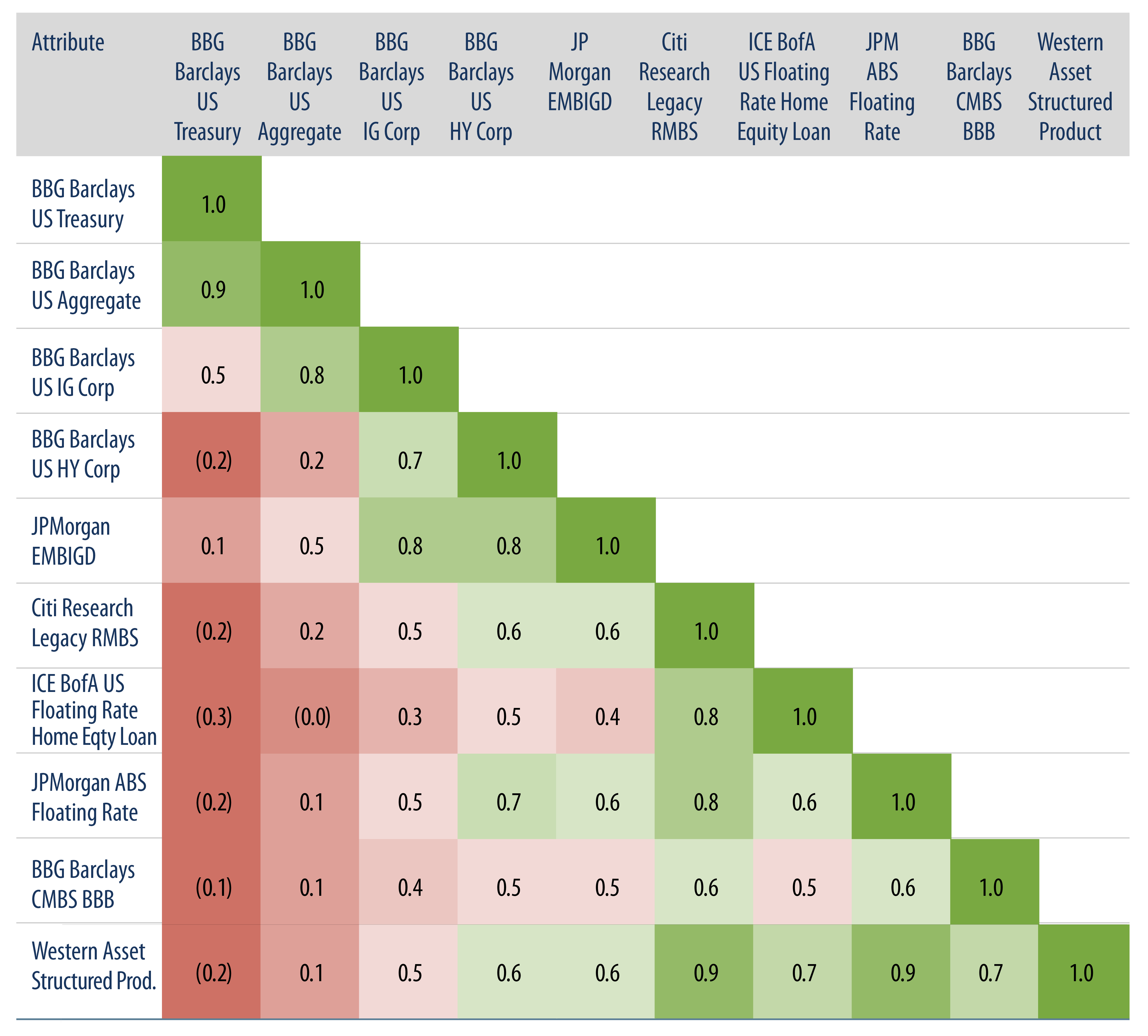 To conclude, the reopening of the US economy supported by effective Covid vaccines has been a positive catalyst for sectors such as mortgage and consumer credit, which have lagged other credit sectors in the rebound since March 2020. The combination of improving fundamentals with attractive relative valuations suggests upside potential for the structured product asset class to generate strong performance. The greatest dislocated opportunities we see are in residential and commercial mortgage credit, which are sectors that have not received the benefit of a Fed backstop. As a result, spreads remain elevated for mortgage credit relative to their pre-pandemic levels compared to those of corporate credit. Our investment team believes that these sectors (which are backed by real assets) may benefit from a rising-inflation environment, and the floating-rate nature of their securities can be used as a hedge against rising interest rates while seeking to generate attractive risk-adjusted returns from spread tightening.
View the Performance and Risk Disclosures for Western Asset's Structured Product strategy.