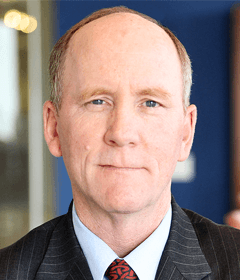 Policy Matters
US Debt Limit
Executive Summary
The US is fast approaching its $19.8 trillion debt limit and is on course to reach it by mid-October if Congress doesn't take action.
History indicates that the public's tolerance for service or payment disruptions is very low and will benefit neither political party.
Western Asset agrees with market indicators that it is very unlikely Congress will not act in time to raise or suspend the debt limit.
The US is expected to reach its current $19.8 trillion debt limit sometime in early- to mid-October, according to Congressional Budget Office estimates. On July 28, Treasury Secretary Steven Mnuchin sent a letter to Congress asking for a statutory increase by September 29. In the letter, he asked for a "clean" debt ceiling increase, meaning legislation without other initiatives.
September 29 is an important date as entitlement checks (e.g., Social Security) are credited in the first few days of every month. So, while sufficient cash is expected to be available to make these early-October payments, legislative action before then eliminates the risk of non-payment.
Western Asset's View
Western Asset believes Congress will act in time to avoid any market disruptions. The following describes why we feel that both politics and market pricing—as indicated by the yields on US T-Bills—are in line with this view.
Politics
Prior episodes of political brinksmanship over this topic have taught politicians that voters don't like service disruptions, such as the closing of national parks or anxiety about the arrival of Social Security payments. While some hard-line fiscal conservatives campaign on cutting spending and not raising the debt limit, this is not a top-10 issue for the American electorate. For that matter, under the Obama presidency, even as the Republicans hewed to their campaign rhetoric of fiscal discipline, they lost in the court of public opinion as they held up increasing the debt limit to extract other concessions. Lesson learned. Still, with the Republicans now holding the majority, Democrats have an incentive to try to extract legislative concessions in exchange for a vote to raise the limit.
The vote will require bipartisan support. Ratification in the Senate requires 60 votes. As the Republicans hold 52 seats, at least eight Democrats will need to support the bill. While legislators privately support the increase, a public vote may be a different matter. Further, the political instinct is to extract concessions. Such concessions that favor Democratic initiatives might erode some Republican support. The political calculus might be that any failure to pass the bill will smear the Trump Administration without blowback to Democrats. While we generally dismiss that scenario, Western Asset claims no special political insight. Our last thought is that the overhang of geopolitical tensions (i.e., North Korea military action) would likely favor a forthright passing of the bill. Indeed, President Donald Trump announced on August 10 the desire to fund billions in missile defense systems. A vote against the debt limit increase could be seen as a vote against national defense. (Of the 34 Senate seats up for re-election in 2018, Democrats hold 25. No reason to create a possible campaign issue for your opponent.)
In the event of an impasse, Congress can vote for a temporary increase or suspend the limit, as has happened in the past. Indeed, the US is operating now under a suspension in effect from March 16, 2017.
There is also a scenario whereby the US Treasury could prioritize payments. Recently released Federal Open Market Committee minutes of the August 2011 meeting (coincident with the July 2011 debt limit crisis, which created market tumult) indicated that operational plans were in place to prioritize payments. That the existence of such plans are now known, one might hypothesize that Congress has more time and is thus able to push the vote out further. We dismiss this, as well, as a payment-priority debate is a political football no politician would want to kick about.
Market Pricing
Perhaps the best evidence that the market does not expect another messy debt-ceiling impasse is represented by US T-Bill yields. While they do reflect a non-zero probability of a delay in receiving maturing principal, the market is not pricing in a true default, only a slight delay in receiving proceeds. Exhibit 1 shows approximate yields on relevant T-Bills, as of August 16.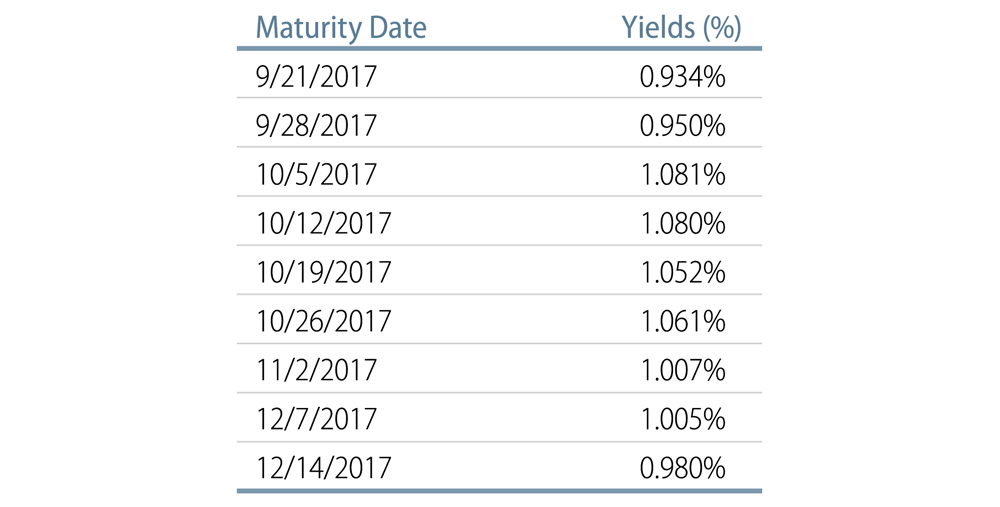 Note there is a small premium available for October maturities as compensation for a delay in receiving scheduled proceeds.
Conclusion
The bottom line here is that the market is quite calm about the prospects for a delay, let alone a long delay. We agree with the market.
© Western Asset Management Company 2018. This presentation is the property of Western Asset Management Company and is intended for the sole use of its clients, consultants, and other intended recipients. It should not be forwarded to any other person. Contents herein should be treated as confidential and proprietary information. This material may not be reproduced or used in any form or medium without express written permission.
Past results are not indicative of future investment results. An investment in the Portfolio may be worth more or less than you originally paid for based on factors such as interest rate, credit, strategy and limited liquidity risks. Additional risks and information regarding fees, expenses and tax considerations are more fully described in the Confidential Offering Memorandum, which must precede or accompany this material. Please read the Offering Memorandum carefully before investing.
Western Asset Management Company Distribuidora de Títulos e Valores Mobiliários Limitada is authorised and regulated by Comissão de Valores Mobiliários and Banco Central do Brasil. Western Asset Management Company Pty Ltd ABN 41 117 767 923 is the holder of the Australian Financial Services Licence 303160. Western Asset Management Company Pte. Ltd. Co. Reg. No. 200007692R is a holder of a Capital Markets Services Licence for fund management and regulated by the Monetary Authority of Singapore. Western Asset Management Company Ltd is a registered Financial Instruments Business Operator and regulated by the Financial Services Agency of Japan. Western Asset Management Company Limited ("WAMCL") is authorised and regulated by the Financial Conduct Authority ("FCA"). In the UK and EEA countries, this communication is a financial promotion intended for distribution to Professional Clients only as defined by the FCA or MiFID II rules.