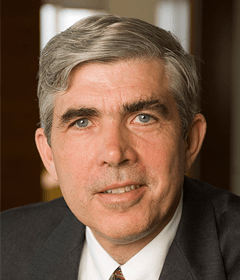 Market Commentary
Chief Investment Officer
Progress might have been alright once, but it has gone on too long. ~Ogden Nash
Executive Summary
Until recently, the market consensus was one of "secular stagnation," predicting anemic growth for the indefinite future.
Today, the prevailing theme is "global reflation," calling for synchronized global growth that will lead to self-sustaining recoveries around the world.
Western Asset has a different view, falling somewhere between those two extremes.
We continue to believe the global recovery will be ongoing, albeit very slow.
Moderate US growth amidst an improving global economy has supported our view that spread sectors would continue to outperform Treasuries and sovereign bonds.
While the US backdrop is favorable, the relative attractiveness of selected spread sectors outside the US has improved.
As a result, we have raised our emerging market and European bank credit allocations.
Less than a year ago, a prevailing topic of discussion among the economic academic community and market participants was "secular stagnation." Developed countries would have paltry growth for the indefinite future. Policies and planning would have to adapt to this reality. Commodity prices had plummeted earlier in the year. Brexit and global deflation fears commanded attention during the summer.
Today, in a stunning 180-degree turn in sentiment, the common market discussion theme is "global reflation." The new idea is that synchronized global growth will lead to self-sustaining recoveries around the world. This will let central banks normalize interest rates, and the key risk will be the re-emergence of inflation. At Western Asset, we find our world view very much in between those two extremes. The process of global economic mending, which will lead to inflation bottoming and turning up, will be a long-term process. We remain optimists that this process is proceeding, as it appears to us that global inflation may have bottomed last summer and is finally starting to turn up. Our view, however, remains that this will be a very slow process, taking many years, and continuing to require meaningful monetary and even fiscal support. This view suggests that spread sectors will continue to be preferable to holding Treasury or sovereign bonds. It also suggests, however, that any meaningful or swift increase in inflation or interest rates is not imminent.
Forecasts for growth and inflation from the Federal Reserve (Fed) over each of the last five years proved to be too optimistic. This, in turn, led its estimates of the future path of rate hikes to be revised downward. Is 2017 going to be different? In looking at the US economy at the beginning of each of these years, it appeared the process of economic healing was underway. Unemployment was falling and growth appeared to be looking up. The prospects for inflation to be bottoming, leading eventually to higher short-term interest rates, appeared reasonable. Considering the US economy in isolation, this was a highly plausible narrative. The enormity of the global secular headwinds that restrained both global growth and inflation suggested, and indeed led to, a less optimistic outcome.
The consensus view coming into this year was similar. Optimism about US growth, particularly with the prospect of fiscal policy thrust, appeared to be relatively more attractive than the gradual healing process still evident beyond our shores. And while we felt the interest-rate pessimism in the US went "too far, too fast" and was subject to political disappointment, we also believed the US growth prospects were relatively more favorable than those of most other developed markets. As the year has progressed, though, the US has mildly underperformed expectations, while global growth has done better than originally forecast. The backdrop of moderate US growth amidst an improving global economy has supported our view that spread sectors would continue to outperform Treasuries and sovereign bonds. This development has been particularly beneficial for our theme of increasing our emerging-market exposure (as outlined in our last note), particularly in local currency denominated debt (Exhibit 1).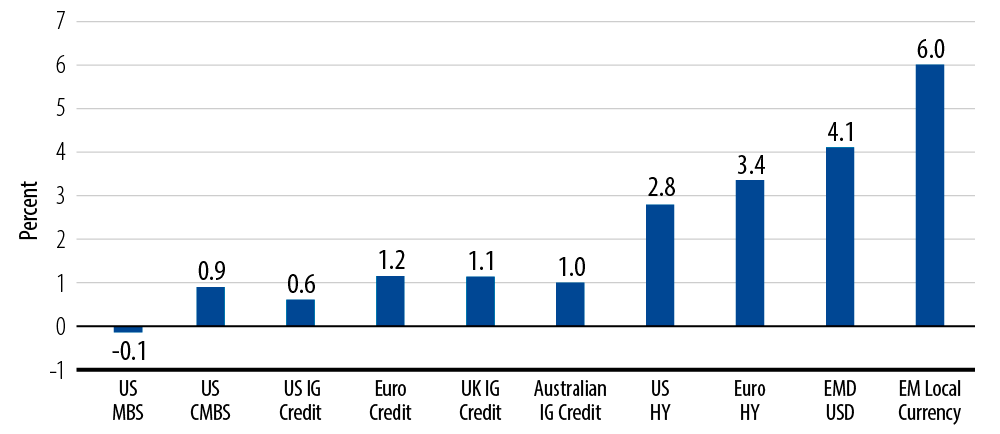 More recently, we have been adding to the European bank position. While political uncertainty is a fact of investment life these days, our view is that the political climate in Europe is more benign than the market fears. We believe the election outcome in France supports this thesis. We are cautiously optimistic on Italy, as well. More importantly, from an investment standpoint, this political fear combined with recent historical experience has held back the performance of European bank debt. This provides a compelling valuation entry point. Additionally, banks have been forced to take the hard medicine of balance-sheet recapitalization by selling equity (Exhibit 2). Just as banks in the US were pushed by regulators to raise equity in the aftermath of the crisis, so are European banks issuing equity as they rightsize their balance sheets. Likewise, management attention to cost reduction and NPL (non-performing loans) reduction is proceeding. While the economic growth of Europe remains muted at roughly 2%, this still provides a favorable backdrop for the improving bank credit posture.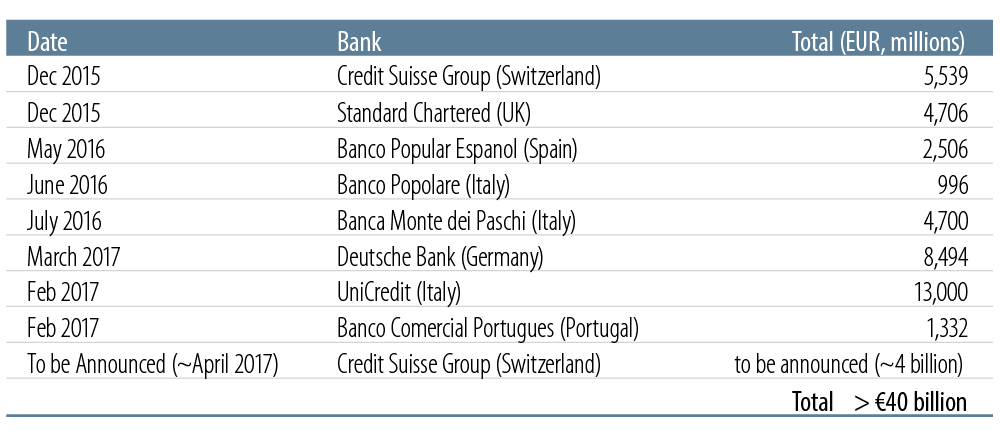 On this side of the "pond," we continue to reduce our credit overweights. As we outlined last time, both in investment-grade and high-yield sectors, this is a year of subsector and issue selection. While we are comfortable with broad yields spread levels, we are not positioning for a broad based spread compression rally. As valuations have increased over the course of the year, we have mildly reduced positions.
We have held a slight overweight in US Treasury duration in longer maturities, looking for the yield curve to flatten. One of our strongest viewpoints during the post-crisis period had been the importance of utilizing macro strategies to cushion our overweight spread product portfolios during risk-off periods. Our thesis has held that Treasury bonds and spread sector performance would be negatively correlated and we have been gratified that that view has been rewarded. A key component of this is that a swift return to an inflationary environment is not yet at hand. US inflation remains subdued. Exhibit 3 displays the recent Treasury yield curve and that at the end of the year. Small changes in the shape of the yield curve can have substantial effects on total return. While interest declined slightly, the flattening of the yield curve led to outsize gains for long maturity Treasuries.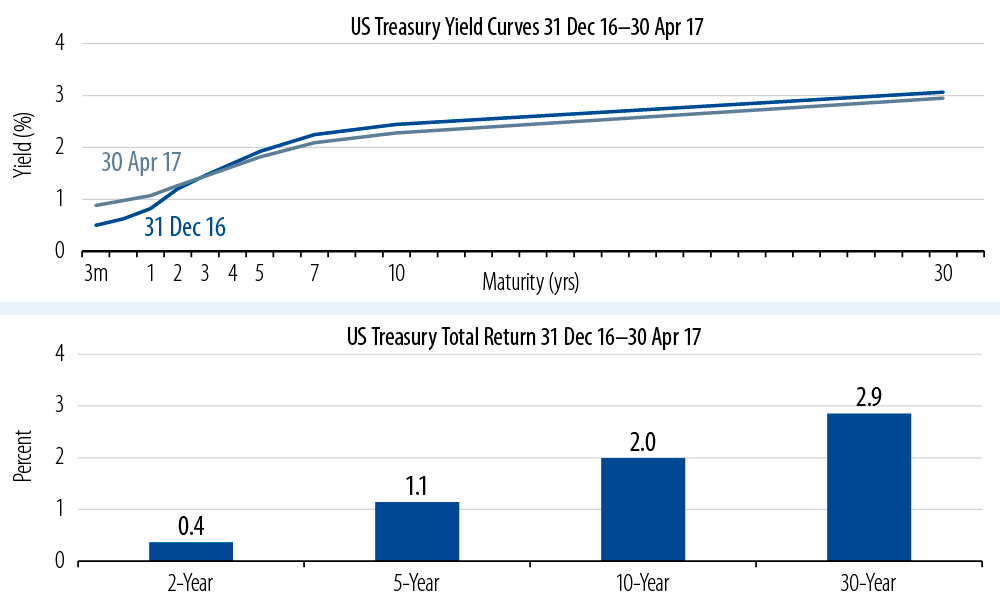 Going forward, we have modestly reduced our Treasury overweights. The lower yield level presents a slightly poorer risk reward. Our view of a continuing moderate pace of US growth, and an improving global backdrop suggests Fed policy will stay on course. We expect the Fed to tighten in June and continue this process of inching up the fed funds rate. Lastly, we would point out the enormity of the change in expectations for fiscal policy. Excitement about the possibility of tax cuts, deregulation and infrastructure spending characterized the consensus earlier this year. Presently, however, the enormous political turmoil in Washington has left investors very doubtful that any meaningful fiscal thrust will be accomplished. Our view is that this is too pessimistic. The prospects for tax cuts to emerge from a Republican-controlled House, Senate and presidency are meaningful. In our view, market sentiment on the political front has swung too far toward pessimism.
We have been believers that the global recovery would be ongoing, albeit very slow. We think the good news is that this global repair is improving. This suggests that while the US backdrop is favorable, the relative attractiveness for selected spread sectors outside the US has improved. Consequently, we have raised our emerging market and European bank credit allocations.
© Western Asset Management Company, LLC 2021. This publication is the property of Western Asset and is intended for the sole use of its clients, consultants, and other intended recipients. It should not be forwarded to any other person. Contents herein should be treated as confidential and proprietary information. This material may not be reproduced or used in any form or medium without express written permission.
Past results are not indicative of future investment results. This publication is for informational purposes only and reflects the current opinions of Western Asset. Information contained herein is believed to be accurate, but cannot be guaranteed. Opinions represented are not intended as an offer or solicitation with respect to the purchase or sale of any security and are subject to change without notice. Statements in this material should not be considered investment advice. Employees and/or clients of Western Asset may have a position in the securities mentioned. This publication has been prepared without taking into account your objectives, financial situation or needs. Before acting on this information, you should consider its appropriateness having regard to your objectives, financial situation or needs. It is your responsibility to be aware of and observe the applicable laws and regulations of your country of residence.
Western Asset Management Company Distribuidora de Títulos e Valores Mobiliários Limitada is authorised and regulated by Comissão de Valores Mobiliários and Banco Central do Brasil. Western Asset Management Company Pty Ltd ABN 41 117 767 923 is the holder of the Australian Financial Services Licence 303160. Western Asset Management Company Pte. Ltd. Co. Reg. No. 200007692R is a holder of a Capital Markets Services Licence for fund management and regulated by the Monetary Authority of Singapore. Western Asset Management Company Ltd is a registered Financial Instruments Business Operator and regulated by the Financial Services Agency of Japan. Western Asset Management Company Limited is authorised and regulated by the Financial Conduct Authority ("FCA") (FRN 145930). This communication is intended for distribution to Professional Clients only if deemed to be a financial promotion in the UK as defined by the FCA. This communication may also be intended for certain EEA countries where Western Asset has been granted permission to do so. For the current list of the approved EEA countries please contact Western Asset at +44 (0)20 7422 3000.