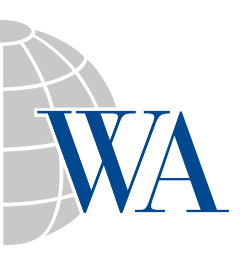 Credit: An Historic Opportunity
The past two years have comprised the worst period on record for the investment-grade credit market in terms of relative return versus U.S. Treasuries. The asset class generated 2,442 basis points (bps) of negative excess return for the two-year period ending January 22, 2009, a beating well beyond anything it had seen before. We believe that the massive sell-off of investment-grade corporate bonds has gone too far and that the asset class offers an attractive investment opportunity at current, historically wide spreads. The option-adjusted spread (OAS) of the Barclays Investment-Grade Corporate Index stood at +510 bps as of January 23, 2009 (Exhibit 1). This reading was well in excess of the 20-year monthly average of +117 bps for the investment-grade market, and also exceeded the high-yield market's long-term monthly average of +483 bps as measured by Barclays. This paper outlines the major reasons why Western Asset believes that valuations in the credit market currently offer investors an opportunity for considerable relative outperformance.
Credit Risk is Mispriced
The yield spread (risk premium) of corporate bonds over Treasury securities is a function of liquidity risk and credit risk. Since January 2007, both liquidity and credit risk have experienced significant increases. Credit risk, the dominant factor in yield spread, is a measure of the market's expectations in terms of default and recovery. Liquidity risk measures the cost associated with buying or selling a position. Losses at financial institutions (the primary liquidity providers in the corporate bond market) have resulted in those institutions reducing the amount of capital available for market-making activities. A review of the U.S. government's December 2008 Flow of Fund statement illustrates this point. Corporate bonds held for trading on the balance sheet of financial institutions declined from approximately $400 billion in 3Q07 to $200 billion in 3Q08, the most recent quarter for which data is available. This reduced commitment to the asset class has resulted in an increase between the bid and offer levels of most corporate bonds. In January 2007 the average bid/offer spread for a 10-year bond of a large A or BBB rated industrial issuer was approximately 2 bps, or $1.25 per $1,000 par bond. Today that difference is approximately 50 bps, or $30 per $1,000 par bond. In our view, liquidity risk premiums are elevated, though given reduced capital commitments by most market makers they appear reasonably priced. However, we believe that credit risk is mispriced. This is the primary reason why we believe corporate bonds currently offer a compelling investment opportunity. The aggregate result of our bottom-up credit research is not consistent with the level of credit risk implied by current valuations.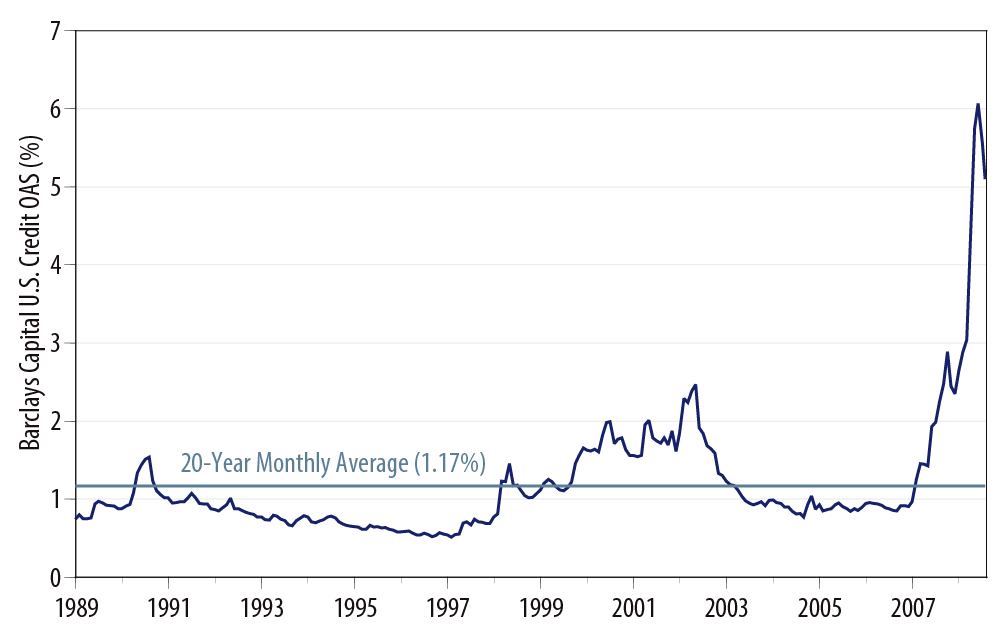 Current credit valuations imply nothing short of complete financial Armageddon. Historically, recovery rates have tended to decline relative to the long-term average in times of increasing default rates. The long-term average recovery amount received for securities in default is $0.39 per $1.00 par amount. If we assume that recovery rates will average just $0.30, more than 20% less than the long-term average, an OAS of 510 bps implies an annual default rate of 8.2% and a five-year cumulative default rate of 31.6% (Exhibit 2). Under any scenario, current valuations imply that investment-grade companies will fail at rates well in excess of those seen during the Great Depression.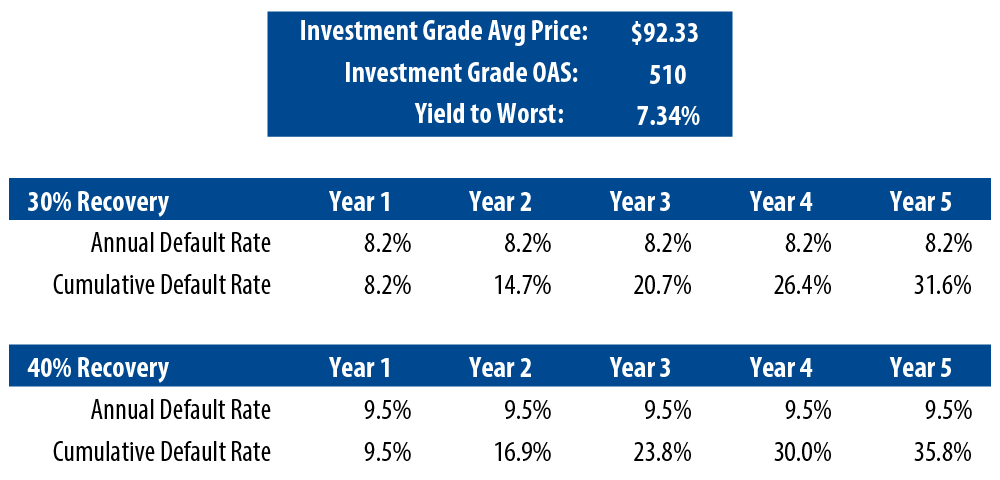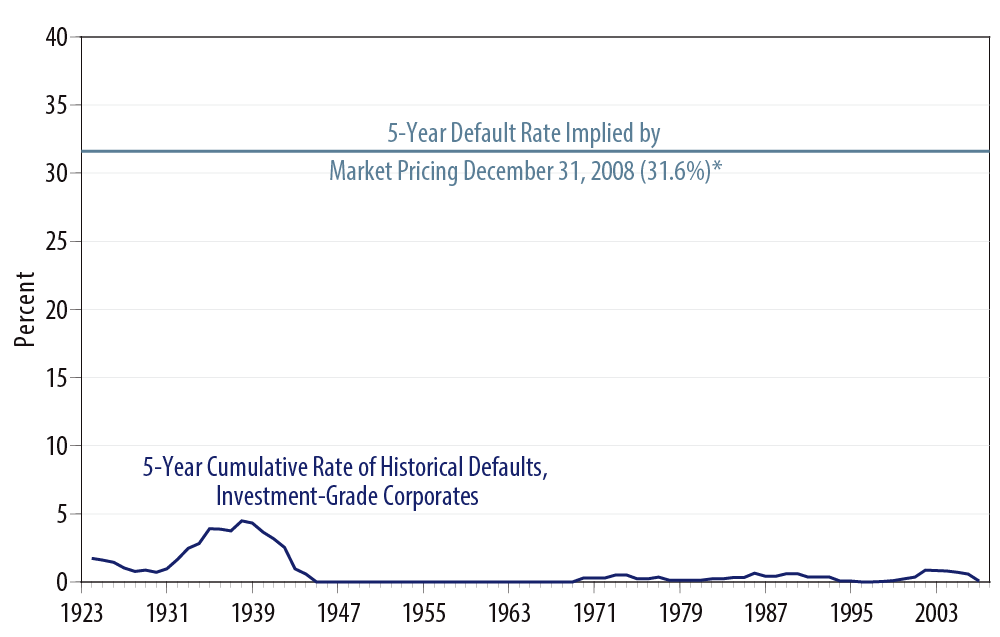 The corporate default rates experienced during the Great Depression are the worst ever seen. As shown in Exhibit 3, the cumulative five-year default rate peaked at 4.49% in 1938. The current financial crisis and resulting recession have led to tighter lending standards and deteriorating corporate financial metrics. These conditions are consistent with rising default rates. However, given the considerable resources of a preponderance of issuers in the investment-grade market and current government policies, we find it inconceivable that more than 3 in 10 investment-grade credits will default over the next five years to reach the 31.6% default rate implied by current market pricing. If during the next five years spreads remain at the current elevated levels, less than 31.6% of investment-grade credits default, and those that do provide recovery of 30 cents on the dollar, then investment-grade credit will outperform duration-neutral Treasuries. In our view, that is a very low bar to clear.
The most recent financial data available compares favorably to any point during the last two U.S. recessions, in 1990 and 2001. While defaults did pick up during those recessions, the five-year cumulative default rates never exceeded 0.62%. The widest OAS experienced during each of those economic downturns was 157 bps and 247 bps respectively. Current corporate fundamentals argue for spreads closer to the long-term average than record wides.
Unprecedented Policy Action
Policy support for credit markets since the end of 2007 has been unprecedented in both size and scale. The programs that have been enacted were designed to provide liquidity and to stimulate economic activity. The government's actions are in stark contrast to the policy response leading up to and throughout the Great Depression. During 1927-1934, the government enacted policies that had the effect of reducing aggregate money supply, liquidity and economic activity. Governments' response to the current financial crisis has done the opposite.
Since August 2007 the U.S. government has implemented 26 separate programs in an effort to stabilize the credit and mortgage markets as well as the general economy. These programs have provided liquidity and infused more than $5 trillion in aggregate capital into the economy. Though the stimulus impact has yet to be fully felt, we believe it will be significant and will help avoid anything close to the economic calamity of the Great Depression. This stimulation of economic activity should increase corporate profits and cash flows, supporting credit markets and leading to eventual price recovery that will benefit investors who purchase credits at the current historic lows. Similar actions have been taken by various U.K. and European governments.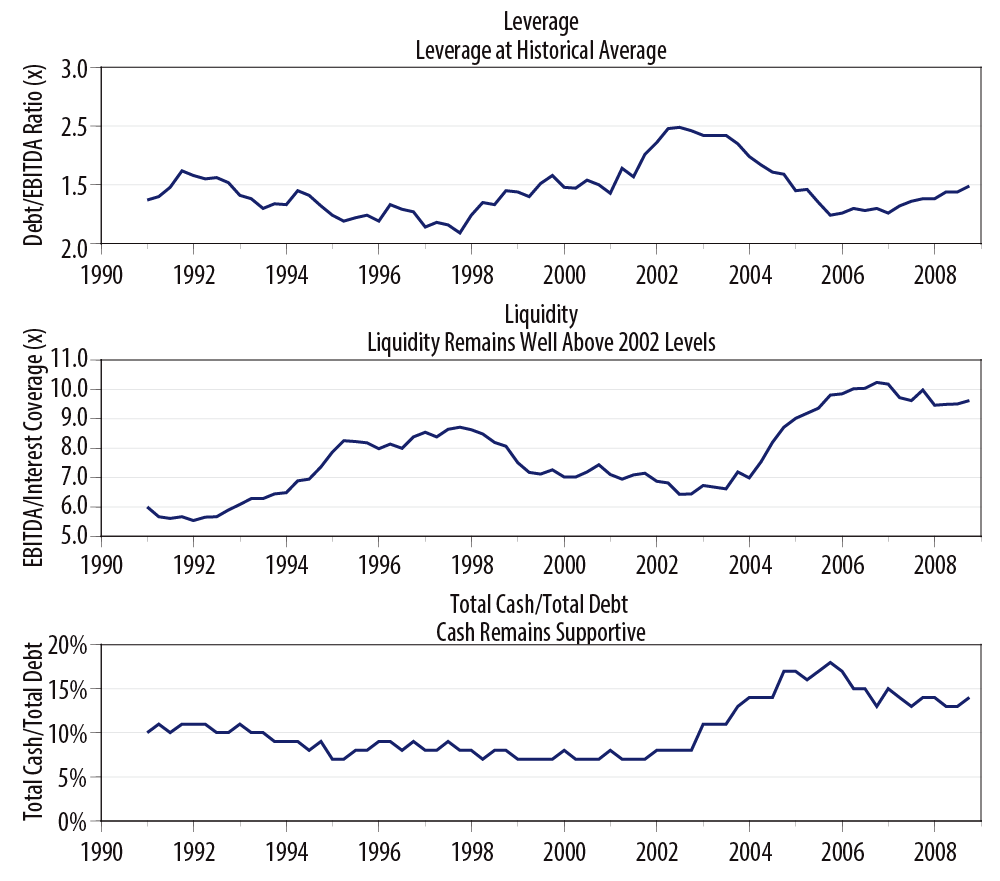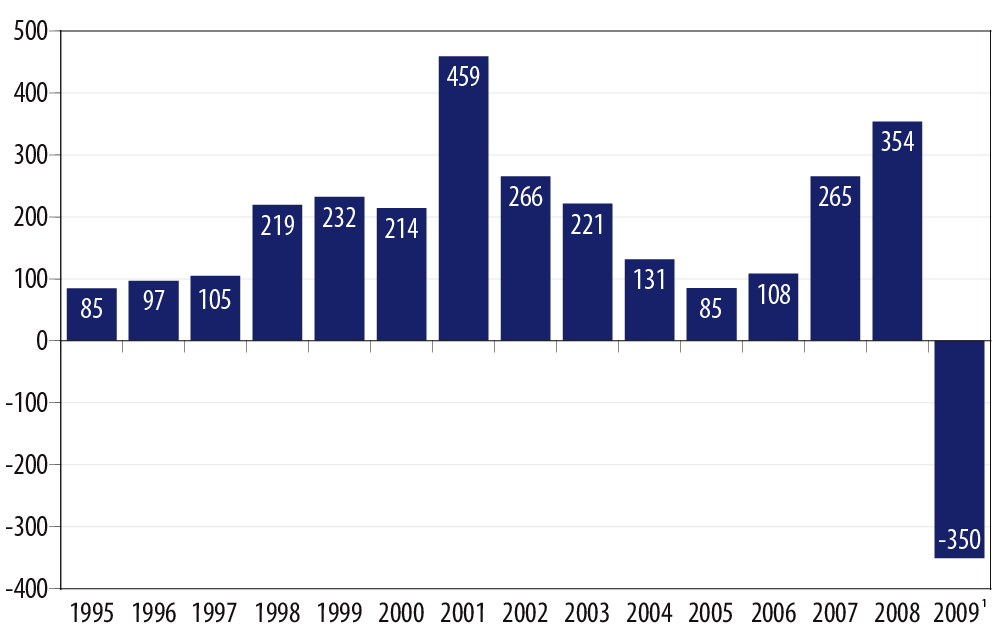 We believe that credit fundamentals will deteriorate over the next few quarters as the effects of the recession are further reflected in corporate financial metrics (Exhibit 4). Some industries will experience greater deterioration than others. There is no doubt that corporate liquidity will be negatively impacted by a contracting global economy. However, by October 2008 the economy was already nine months into the current recession and aggregate 3Q08 leverage and liquidity statistics for the investment-grade universe remained in good shape. Reduced EBITDA and borrowing sources have encouraged companies to conserve cash. Companies have materially cut capital expenditures and reduced or eliminated share repurchase programs. These measures should help offset further economic weakness and reduced earnings for a while. So, while we believe that credit fundamentals will deteriorate, we do not expect deterioration to increase to the extent implied by current valuations.
Reduced New Issue Supply
Technicals are supportive of credit spread narrowing. We mentioned earlier that financial institutions have reduced their capital commitment for trading purposes, which has contributed to spread widening. However, it stands to reason that a reduction in the number of bonds offered for sale could offset the impact of fewer market makers.
As shown in Exhibit 5, corporate new issue supply is expected to diminish significantly in 2009. Net issuance (other than FDIC-guaranteed issuance, which is primarily purchased by government/agency funds) is expected to be significantly negative for the year. When maturing debt is measured against the capital needs of investment-grade companies, the net result is an expectation of a negative net supply of $350 billion. For the past few years corporate share repurchase programs have been exclusively financed by debt issuance. With share repurchase programs down materially and capital expenditures slashed, companies have little reason and even less incentive, given current spreads, to issue debt in today's market.
It is difficult to quantify how much benefit this reduced supply could have on the investment-grade credit market, as this is a new occurrence. However, given the massive reduction in the need to raise capital, it is reasonable to expect that negative net issuance of anything close to the forecasted amount would impact spreads going forward. To understand how powerful an impact reduced issuance could have, it may be helpful to consider 2002–2005. Although this period does not include a year of negative net issuance and it coincides with solid GDP growth, which makes the comparison more challenging, the period does include years of reduced net issuance. These years also coincided with credit outperformance. During this period, the investment-grade credit market generated 414 bps of excess return, as measured by Barclays.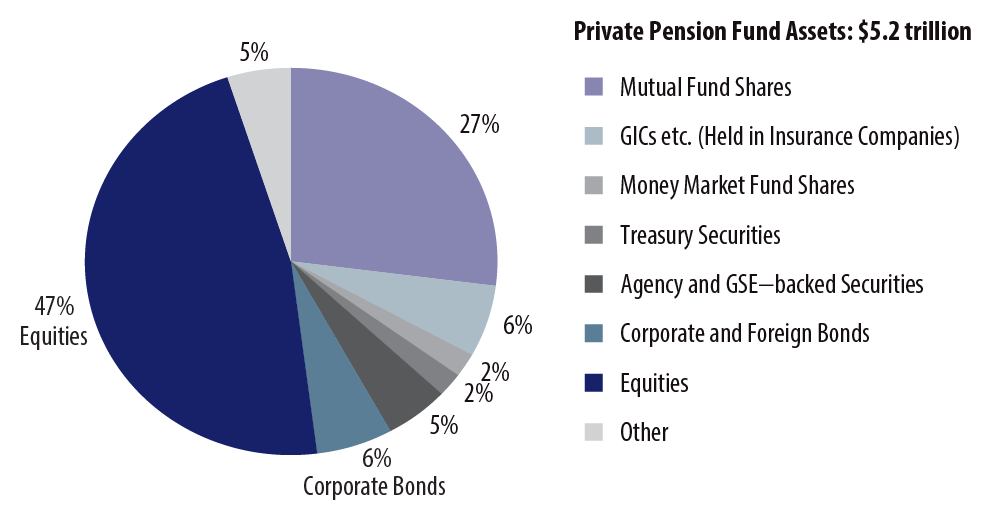 Pension Plans: A Source of Increased Demand
U.S. corporate pension plans currently allocate an average of 6% of assets to corporate bonds, according to the Federal Reserve's Flow of Fund statement. With corporate spreads near all-time wides, U.S. Treasury yields near all-time lows and equity markets more than likely capped to some degree by reduced earnings expectations, it may make sense for pension plans to increase their allocation to the corporate bond market. Pension plans typically use Moody's long-term Aa corporate yield as the discount rate to determine the present value of their plan's liabilities. Historically, the yield of the corporate index and the Aa rated long index have been closely aligned. However, the Moody's long-term Aa rated yield stood at 5.99% on January 26, 2009 while the Barclay's corporate index read 7.34%. This means that pension plans should be able to earn a return in excess of their discount rate by using corporate bonds. This should be attractive for most plans as they may be able to hit their targeted return using a senior and less risky part of a company's capital structure, corporate bonds.
The market value of private defined benefit (DB) pension plans was $2.7 trillion as of December 2007 while public DB plans totaled $3.8 trillion. Private defined contribution (DC) plans totaled $3.5 trillion. If we assume similar asset allocations for DC and public DB plans as the government reports for private DBs, then there is room to increase allocations to corporate bonds across the board. Even a small increase in allocation to corporate bonds would have a significant impact on the asset class. A 1% increase in allocation to the asset class would result in an incremental $100 billion in demand for corporate bonds. This increased demand in corporate bonds would be supportive for credit valuations, especially considering reduced new issue supply.
Conclusion
For the reasons stated above, Western Asset believes that corporate bonds will outperform Treasuries in the next year. Corporates have already generated over 200 bps of excess return so far in 2009. There is a risk, however, that the rally will stall and retreat before corporates return to valuation levels that reflect more realistic default assumptions, solid credit fundamentals and supportive market supply/demand dynamics. Poor earnings reports, reduced earnings guidance and/or a major bank failure could lead to another round of flight-to-quality and rising risk premiums. That said, current risk premiums offer historic levels of insurance against underperformance. The corporate index could widen 15% over the next 12 months and corporates would still outperform Treasuries. We expect spreads to tighten but if we are wrong we feel that the downside is limited by the historically wide break-even levels that corporates currently offer.
In our view, corporates currently offer one of the best risk/reward investment opportunities since our inception in 1971. We agree that the current economic environment is the worst we've faced since 1980 and could get worse. We acknowledge that credit fundamentals will deteriorate. However, valuations currently discount a credit meltdown of historic proportions. We disagree. At some point government policy initiatives should take hold, banks will ease lending standards, earnings will stabilize and grow, and demand for risk will return. When that happens, we believe credit markets could stage a rally of historic proportion. Until then, current spreads provide a substantial amount of incremental yield and insurance that we believe is not reflective of either market technicals or credit fundamentals.
© Western Asset Management Company, LLC 2020. This publication is the property of Western Asset and is intended for the sole use of its clients, consultants, and other intended recipients. It should not be forwarded to any other person. Contents herein should be treated as confidential and proprietary information. This material may not be reproduced or used in any form or medium without express written permission.
Past results are not indicative of future investment results. This publication is for informational purposes only and reflects the current opinions of Western Asset. Information contained herein is believed to be accurate, but cannot be guaranteed. Opinions represented are not intended as an offer or solicitation with respect to the purchase or sale of any security and are subject to change without notice. Statements in this material should not be considered investment advice. Employees and/or clients of Western Asset may have a position in the securities mentioned. This publication has been prepared without taking into account your objectives, financial situation or needs. Before acting on this information, you should consider its appropriateness having regard to your objectives, financial situation or needs. It is your responsibility to be aware of and observe the applicable laws and regulations of your country of residence.
Western Asset Management Company Distribuidora de Títulos e Valores Mobiliários Limitada is authorised and regulated by Comissão de Valores Mobiliários and Banco Central do Brasil. Western Asset Management Company Pty Ltd ABN 41 117 767 923 is the holder of the Australian Financial Services Licence 303160. Western Asset Management Company Pte. Ltd. Co. Reg. No. 200007692R is a holder of a Capital Markets Services Licence for fund management and regulated by the Monetary Authority of Singapore. Western Asset Management Company Ltd is a registered Financial Instruments Business Operator and regulated by the Financial Services Agency of Japan. Western Asset Management Company Limited is authorised and regulated by the Financial Conduct Authority ("FCA"). This communication is intended for distribution to Professional Clients only if deemed to be a financial promotion in the UK and EEA countries as defined by the FCA or MiFID II rules.