Investment Objective
Maximize returns subject to constraints for risk, regulations, and capital needs.
Investment Style
Seek to optimize long term investment return while enabling client to meet benefit/expense payment obligations and maintain a high probability of adequate capitalization.
Investment Vehicles
Separate Account:
Contact your CSE or call 1-626-844-9400
Commingled Vehicle Available
Performance as of
September 30, 2017
Returns for periods greater than one year are annualized. Please see the Performance Disclosure for more information.
Snapshot
Strategy AUM:
Total Insurance Core Assets:
US$2.1 billion (as of June 30, 2017)
Benchmark:
Custom Index*
Inception Date:
01 Nov 00
Sector Allocation as of
June 30, 2017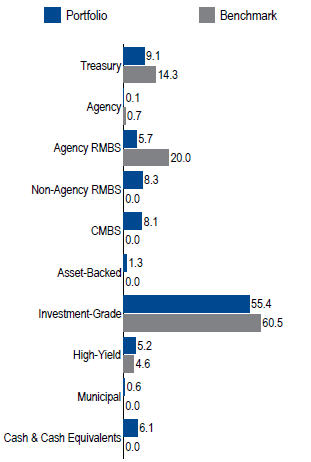 Note: Sector allocation includes look-through to any underlying commingled vehicles if held. All weightings are a percentage of total market value. A negative cash position may be reported, which is primarily due to the portfolio's unsettled trade activity. Data may not sum to 100% due to rounding.
Portfolio Characteristics as of
June 30, 2017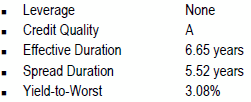 Past performance is not indicative of future investment results, the value of any investment can fall as well as rise.
* The current benchmark is a blend of the custom indices within the Bloomberg Barclays Bond Index: Corporate 50%, MBS Fixed Rate 20%, US Government Index 15%, Intermediate Corporate 10%, US High Yield Ba/B 2% Cap 5%.Refer to Performance Disclosure for benchmark history.