Emerging Markets Debt Local Currency Sovereign
Investment Objective
Exceed the benchmark return by 150 basis points annually over the course of a market cycle while approximating benchmark risk.
Investment Style
Construct and maintain a diversified portfolio of local-currency issuers in emerging market countries. Value can be added through country selection, issuer/issue selection and currencies. Western Asset uses various tools, both external and proprietary, to help identify, measure and manage portfolio risk.
Investment Vehicles
Separate Account:
Contact your CSE or call 1-626-844-9400
Commingled Vehicle Available
Performance as of
September 30, 2017
Returns for periods greater than one year are annualized. Please see the Performance Disclosure for more information.
Snapshot
Strategy AUM:
Total Emerging Markets Debt Local Currency Sovereign Assets:
US$809.4 million (as of June 30, 2017)
Benchmark:
JPM GBI-EM Global Diversified*
Inception Date:
01 Jun 06
Sector Allocation as of
June 30, 2017
Note: Sector allocation includes look-through to any underlying commingled vehicles if held. All weightings are a percentage of total market value. A negative cash position may be reported, which is primarily due to the portfolio's unsettled trade activity. Data may not sum to 100% due to rounding.
Portfolio Characteristics as of
June 30, 2017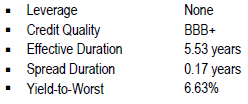 Past performance is not indicative of future investment results, the value of any investment can fall as well as rise.
* Prior to 01 Sep 10, no benchmark was used. For comparison purposes the benchmark was calculated since inception.