Process

CHANGE FONT SIZE

REQUEST INFORMATION

Western Asset employs a team-oriented investment process. The strategic goal is to add value to client portfolios while adhering to a disciplined risk control process. The investment management team seeks to exceed benchmark returns while approximating benchmark risk. In pursuing this goal, Western targets four primary strategies: sector allocation, issue selection, duration exposure and term structure weighting. For global portfolios, country/currency allocations form a crucial fifth element. These areas represent the primary sources of value added in Western's active fixed-income management.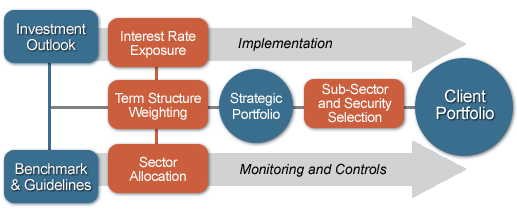 Sector & Sub-Sector Allocation
Western Asset has been successfully rotating among and within sectors of the bond market, preferring non-government sectors because they typically offer higher relative yields and have tended to outperform the broad market over long market cycles. Members of the Global Investment Strategy Committee continually analyze the broad economic environment to determine the potential impact on sector performance. They study historical yield spreads, identify the fundamental factors that influence yield spread relationships, and relate these findings to the Firm's projections to determine attractive alternatives.

The Firm's analysts continually augment this process by providing detailed analyses of specific sectors.
Issue Selection
Issue selection is a bottom-up process to determine mispriced or undervalued securities. The sector teams use dedicated, focused and industry-assigned analysts to provide an ongoing assessment of relevant credit characteristics at the issuer and industry levels. Analysts develop earnings and cash flow projections, credit scenario analyses, and often meet with management of specific issuers. Armed with these sector and issue analyses, the sector teams and portfolio manager select issues opportunistically.
Duration Weighting
The Global Investment Strategy Committee decides on a duration target based on a comprehensive analysis of domestic and international macroeconomic factors as well as the general political environment. The underlying belief is that interest rates are primarily determined by the level and direction of inflation, and that inflation is primarily a monetary phenomenon. The Global Investment Strategy Committee weighs its views against market expectations, taking on more risk as its views diverge from the market and less risk as they converge. The consensus is not to attempt to time the market, but rather to identify and stay with long-term trends.
Term Structure
Western closely monitors shifts in the yield curve, for the relationship between short, intermediate and long maturity securities is essential to constructing a long-term investment horizon. The Global Investment Strategy Committee determines the implications of the relevant yield curve's shape, along with projections of central bank policy and market expectations, and formulates a yield curve strategy to be implemented by the portfolio managers.
Country/Currency Allocation
Western Asset uses internal and external research to analyze the outlook for each of the major market blocs, focusing on the fundamental factors likely to impact bond and currency markets over the next six to eighteen months. These factors include levels and trends in economic activity, inflation expectations, and outlook for monetary and fiscal policy. Applying this analysis consistently across markets allows the investment team to rank markets fundamentally and develop a base case outlook for global interest rates and currencies. Western then compares expected returns with those implied by current market prices to identify markets and sectors the Firm believes offer attractive relative value.