Investment Style
Macro Opportunities uses a long-term assessment of value complemented by short-term liquid strategies driven by market dislocations. The focus is on global valuations in credit, changes in interest rates and volatility conditions. The strategy offers active management and flexible guidelines that enable the manager to direct exposures opportunistically toward segments of the market that represent strong value opportunities.
Investment Vehicles
Separate Account:
Contact your Client Service Executive or call 1-626-844-9400
Commingled Vehicle Available
Performance as of
September 30, 2018
Returns for periods greater than one year are annualized. Please see the Performance and Risk Disclosures for more detail.
Portfolio Characteristics as of
June 30, 2018
Snapshot
Strategy AUM:
Total Macro Opportunities Assets:
US$14.9 billion (as of June 30, 2018)
Benchmark:
No Benchmark*
Inception Date:
01 Apr 12
Sector Allocation as of
June 30, 2018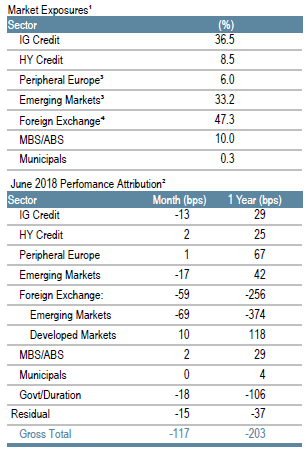 Note: Sector allocation includes look-through to any underlying commingled vehicles if held. All weightings are a percentage of total market value. A negative cash position may be reported, which is primarily due to the portfolio's unsettled trade activity. Data may not sum to 100% due to rounding.
IMPORTANT INFORMATION: All investments involve risk including loss of principal. Past performance is not indicative of future investment results. This information is only for use by professional clients, eligible counterparties or qualified investors. It is not aimed at, or for use by, retail clients.
1 The information provided is supplemental to the Macro Opportunities Composite. Please see performance disclosure.
2 Western Asset believes that attribution is not a hard science, but rather a means of evaluating strategies to determine their relative impact on overall portfolio performance. The intent of the manager, therefore, is critical in the evaluation of different strategies, and the return attribution for any sector or strategy could be over or understated due to its inclusion in another component. Data will not sum to 100% due to the exclusion of government-related cash bonds/derivatives and cash/cash equivalents.
3 Emerging Markets exposure is denominated in both USD and local currency. Local currency exposure is reflected in both the Emerging Markets and Foreign Exchange sectors.
4Represents gross currency exposure.
* The Macro Opportunities Strategy is not measured against a benchmark. There is no benchmark available which appropriately reflects the strategy.