Philosophy

CHANGE FONT SIZE

REQUEST INFORMATION

Western Asset believes in long-term, fundamental, value-oriented investing. The Firm's objective is to provide fixed-income clients with diversified portfolios that are tightly controlled and managed for the long term. Western believes that significant inefficiencies exist in the fixed-income markets. By combining traditional analysis with innovative technology, Western seeks to add value by exploiting these inefficiencies across eligible sectors.

Western Asset emphasizes the value of active management by utilizing multiple investment strategies, including active sector and issuer selection. The Firm believes these strategies enhance value by limiting the ability of any one strategy's underperformance from significantly impacting returns.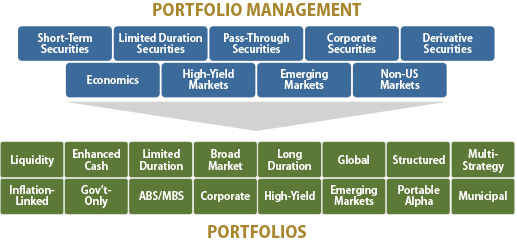 A Team Approach
Western manages portfolios on a team basis, with the same professionals responsible for all products and portfolios. This team approach unites groups of specialists dedicated to different market sectors. The investment responsibilities of each sector team are distinct, yet results are derived from the constant interaction that unites the sector teams into a cohesive whole. This structure ensures that client portfolios benefit from a consensus that draws on the expertise of all team members.
Risk Management
Western Asset believes that managing risk is as important to the investment process as adding value. The Firm employs a variety of risk reduction strategies, aiming to approximate a benchmark's risk while exceeding its return. Western also employs a dedicated risk management team whose sole purpose is to continuously monitor and control investment risk.
Client Service
Western Asset is committed to excellence in client service. The Firm has devoted significant resources to its Client Service & Marketing Unit, and expands its relationship base only when the resources are available to continue to provide excellent performance and service to existing clients.